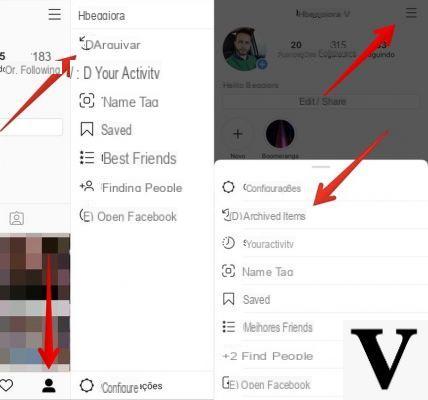 How to recover photos and posts stored on Instagram from smartphones
Well, you've been fomenting archiving posts and publications since the birth of your profile and now you want to repost a photo? It can happen, in fact it is normal to change your mind, if you have a connection with a particular photo.
Here we will explain how to go and retake that photo that you have accidentally archived or of which archiving you regretted afterwards. Don't worry, this is not a complicated process, just follow these instructions step by step:
Access the Platform of Instagram.
Once inside, go to the your profile.
On the top right you will see the icon made with three horizontal bars, click on it.
You will see a list of options, click on Archive.
Then choose if you want to see the stories or the publications.
Among the stories you will find everything that you published more than 24 hours ago and therefore no longer available to your followers, but you in your profile will be able to see and review the story as many times as you want no matter how long before it was published. You will see the stories in chronological order, below the most recent publications and as you go up, you will find the oldest ones.
As for the publications, these will be available only to you and will be in chronological order, at the top the most recent ones and as you go down those that have more time.
How to take back photos stored on Instagram from your computer
If you've archived a photo on your profile and want to retrieve and repost it, don't worry, it's possible. One care, however, DON'T you can do it with the version Instagram web, it will only be possible using the official application downloadable on PC.
You will find the official application if you have a PC running Windows 10. Unfortunately through the Web version, the archive section will not even be available, so it will be impossible to recover the photos.
Let's see step by step how to do if you have downloaded the App:
Have the Official application Instagram on your computer.
Open the application from the icon.
Click onlittle man bottom right.
Once in your profile, click onclock up.
A page with all archived files.
Choose the publication you are interested in republishing.
Squeeze on 3 dots at the top right.
Choose the Show in Profile option.
The post will revert to your profile and will be posted exactly where it was previously, without going out to the feed as a recent post.
Simple, is not it?
Recover archived photos from Instagram Stories
You may also want to retrieve the Stories published, those that remain alive for only 24 hours and then are automatically deleted.
Again there are two things to keep in mind:
This function can only take place through the smartphone, the web function cannot be used.
You have to check that the function of automatic archiving is activated, otherwise the stories will not be saved automatically. If this was not activated, activate it now, but keep in mind that the stories will start archiving only from the moment of activation and the previous ones cannot be recovered.
As controllare if archiving of your stories is done automatically? Follow the following steps:
Log in to the Instagram platform.
Click on yours profile picture top left.
If you have one active story click as if you want to add another, if you don't have any, continue with the next step.
Press the top left on gear wheel.
Search save to archive and see if this feature is active or not.
Click on end to confirm the changes made.
If it's active, you will be able to retrieve your past publications. Otherwise you can still activate it this way your next stories will remain in the archive.
But now let's see how to retrieve the stories if you have all the requirements online:
Log in on Instagram.
Enter yours personal profile.
In the top right, click the icon with three horizontal bars.
Click Archive.
In the other where it says archive there is one frequency downwards that will allow you to choose between stories or posts.
Click on stories.
Once you have the story you are interested in, you can decide to repost it or put it in the featured stories. You decide what to do.
How to archive a photo step by step
Now that you know how to recover an archived photo, perhaps we should review how to do it archive.
First of all, we must take into account that this function is very useful in case you regret a publication made in the past, you want to do a general cleaning of your profile or you believe that certain contents no longer represent us.
The advantage of this feature is that first of all you can always change your mind and republish the content and that the photo will still be available for you, without owe them save on the device taking up space: it could become a virtual private gallery.
Now that you know the benefits, let's see how to proceed with archiving step by step:
Access the platform of Instagram.
Log in to your profile.
Crush photography in question to be archived.
At the top right click on three dots.
Finally selection Archive.
Done! Quick and easy, now only you will be able to see the post in the archived photos folder.
I accidentally archived a photo on Instagram: how to repost it?
You already know where to go to find all the photos you have archived, maybe some of these have been archived by mistake, you can still recover this photo.
Go to the archive where there are all the publications, then click on the photo you are interested in. At the top right you will see the icon with three dots, press it then you will have the option to publish it again or proceed with the permanent deletion.
What is the difference between archiving a photo on Instagram and deleting it?
When you delete a photo on Instagram, this means that none of the your followersr will no longer be able to see it, but not even tu. The archive option could be likened to hiding the photo from other people's eyes.
Archived photos not only can always be available for your vision, but if you have a change of mind and opinion, you can always make it available again and it will return chronologically to where it was originally located.
To recap, archiving a photo may be the best choice to make if you are not still certain if you want that particular post on your profile or not and if you are not ready to permanently delete it yet.
Since this feature was introduced, it is one of the most used among platform users.