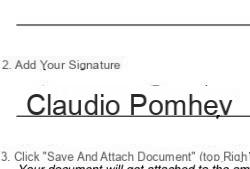 In this digital age, where almost everything is regulated, written and shared using a computer, without using paper it is important to know how to sign documents quickly, legally and securely.
What you really want to avoid is that, in the case of contracts or documents to be signed in pen that are sent via email, you are forced to download the files, print them, sign them, scan them and then send them back via email after an hour of useless work.
Today there are several web applications and programs that allow you to
put our real signature on the documents
, a real
digital signature that has nothing different than a real written signature
in pen on the sheet.
Let's see then
the best app for signing documents from PC and mobile
, Dochub, that
it also integrates into Gmail
so that you can sign the received PDFs or Word and Excel files.
In the past we have mentioned two other free services:
Docusign and SignNow to put digital signatures on documents and contracts
.
Furthermore the
latest version of Adobe Acrobat Reader
allows you to create and insert your signature in a PDF.
To write a signature on the computer, you can also use the free Windows 7 and Windows 8 Windows Journal or
Windows Ink su Windows 10
.
DocHub
is one of the few online digital signature services that is truly free, at least for personal use (albeit with limitations) and also the most usable of the services for its
ease of creating the signature and inserting it
, without wasting time, in any document also received via Email.
Connect to the site
DocHub
and subscribe to the service.
If you have a Gmail account, use the Google account registration so you can take advantage of the service's integration with Gmail and be able to sign documents quickly directly from Gmail without the need to install any additional software. Once you log into your free account, you can
create your own signature
(in English it is Signature).
There are 4 ways to do this:
- Uploading the image file from your computer (perhaps your signature scanned from another document and saved as an image).
- Writing it freehand directly from the application and using the mouse (but it is really difficult to write well with the mouse).
- Taking a photo of the signature using the mobile phone and sending it to DocHub via email according to the instructions provided.
- Use a signature by writing your name with a writing font of your choice (but it would not be regular).
The best mode is certainly that of
use the mobile phone camera
and take a photo of the signature to send it by email to DocHub which will then make it possible to stick it, as if it were a sticker, on the documents in the position you want. Once the signature is created, you can upload any type of document file from your computer or from a cloud service such as Dropbox or Google Drive.
The document can be a PDF or even any text file, a Word file, an Excel table or other. Once the document has been loaded, you can, from the main editing interface (edit), insert the signature by dragging the button at the top. The signature box will appear on the sheet and can be placed in the most appropriate place. It is also possible to insert a text box, the date or an ideal check to fill in the cross-linked forms.
The documents remain saved in the application's cloud storage and can be, after being signed and modified, re-downloaded on the computer using the download button or sent via Email to the recipient.
If you are using it as an email service
gmail
, you can install the extension
Dochub per Gmail
for Chrome. Opening Gmail after installing this extension you will find, in incoming messages with an attached document, the
link to sign it
(sign) next to that to download and view it. DocHub for Gmail is an ideal tool to sign documents quickly, without having to use a printer and a scanner, to save time, energy and resources.
DocHub is not available as an app for Android phones and tablets, iPhones and iPads, for which we have many
app to write or draw with your finger or stylus on the screen
.
ALTERNATIVE:
Get an electronic document signed through a free site
Best app to sign documents from PC and Gmail for free