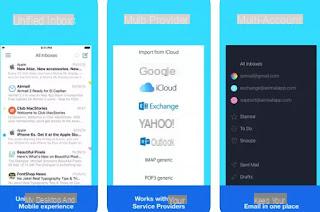 The iPhone Mail app has become, following subsequent updates, a seriously great and complete app for everything.
iOS Mail
offers simple solutions sufficient for most needs: sort VIP senders, archive emails in folders, compose emails using rich text and swipes to act quickly.
The challenge is to find the best email app for the iPhone, which is even superior to the Mail app depending on the type of use and the type of email account you have. This list is sorted starting from the best one based on personal experience, with excellent alternatives to the Mail app included in iOS which, in comparison, can be more limited in certain operations and management.
In this article we see
7 free apps for reading emails from iPhone and iPad that have a few more special features than Apple's default Mail app
.
1)
Outlook per iOS
it is fast, it updates quickly, it allows you to read, send and archive mail, all fast. While many iPhone email apps seem slow, Outlook for iPhone and iPad outperforms them all. You can do almost instant and intelligent searches to see the most important emails first and with the ability to postpone emails with a simple swipe.
With support for Exchange and IMAP accounts, Outlook for iOS is the best iPhone email application in the business environment. Unfortunately, the POP protocol is not supported.
Like on the desktop, Outlook for iOS is also a simple but functional calendar, but without the task management.
The app also supports add-ons to add functions.
2)
Gmail per iPhone
it is identical to the Android version, with all the integrated tools that allow you to manage Gmail accounts. Gmail is always a mandatory installation even for iPhone, since thanks to the synchronization of contacts it allows you to keep a copy of phone numbers so as not to lose them even when changing smartphones.
3)
Spark
is an app that works well for managing email on iPhone with any IMAP email account that allows an external client, such as Gmail, Yahoo Mail, and Outlook.com. Once you start using it, you will notice how fast the interface is, especially in handling messages. Spark is the best at managing email signatures, features an inbox automatically grouped by category (personal, notifications, newsletters, and the rest) and is also a pleasure to look at and use.
4)
Zero
has the convenience of working with swipes to delete (swiping to the left) or keep emails, sort newsletters, postpone or archive messages. The Tinder-like interface makes the inbox fully organized, dividing personal emails from everything else.
5)
Newton Mail
is a minimalist email app, which hides menus and options, to focus on the email sending process, which allows not only to schedule exactly when to deliver messages, but also to inform us when a message has been opened or warn if no replies are received. Newton also has the function to cancel the sending of emails.
6)
Edison Mail
is a fantastic email program that calls itself a smart assistant. In this sense, it suggests recipients based on frequency and can filter emails by type: invoices, booking and shipping notifications, newsletters, etc. Email allows you to find all messages quickly (the search is very fast), postpone reading, manage newsletters and delete groups of Emails.
7)
Airmail
is the app that turns emails into tasks to do and add to your calendar. It then allows you to schedule an e-mail to be sent later, organize messages with folders and labels, support blocking of senders, unsubscribe, postpone messages and cloud storage for attachments. Airmail supports IMAP and POP, so any type of account.
8)
MyMail
for iPhone and iPad is a very nice app to use, with animations that make using this application a pleasure. Support all major email services, support multiple accounts, avatars, push notifications. The application also has a powerful search function that allows users to search for bad mailboxes.
Best E-Mail App for iPhone alternatives to iOS Mail