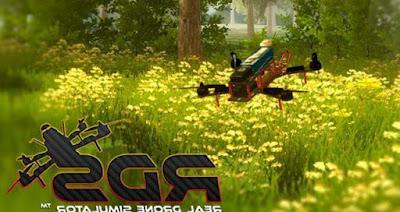 Both for Drone enthusiasts and for those who would like to try them for the first time, i
drone simulators
, which are like 3D games programmed to both rehearse
driving a quadcopter drone
, both to get used to the controls before using the real one, so as not to destroy it with rash maneuvers.
In this article we are going to discover some
Free and open source drone simulators for Windows PC, Mac and Linux
, very realistic, which can be used as PC flight simulators and excellent both for learning how to drive real drones, even those that today can now be bought for a few tens of Euros even at the Supermarket or on Amazon, and to measure your own flying skills with other players from around the world.
All the best simulators also allow you to use the drone controller (although it will perhaps take an adapter) or the normal video game joypads or even the keyboard and mouse.
1)
DRL Racing Simulator
is the official simulator of the Drone Racing League and is the most advanced and most mature game of this series (for Windows and Mac)
Although currently in beta, the League of Drone Players could use it for the pre-qualification of the 2017 world championships.
DRL offers courses and allows you to compete in multiplayer with all drone enthusiasts in the world, earning points.
The outdoor maps are realistic, while the simulator becomes a very fun 3D game in the indoor mode, with competitions in futuristic environments.
DRL Drone Racing Simulator is compatible with both console controls and RC controllers and also has a menu option for using keyboard controls.
2)
dji Drone Simulator
is a beautiful realistic drone simulator, where you can really learn how to drive a real drone, making it move with the controls in a real environment. DJI, which is free to try, allows you to reproduce the drone flight experience on your PC in the most realistic way possible. There are also courses to download so you can try out different scenarios in which to fly. The simulation itself is superb, with realistic and fluid flight physics and great graphics, even with many maps to choose from.
3)
Real Drone Simulator
is a simulator for Windows, Mac and Linux, still in pre alpha version, but which promises not only to remain free forever, but also further developments to try flying in virtual reality and also in Google Earth.
Basically it is a game to have fun, to also play with the keyboard using a virtual drone, earning points and coins (to improve the drone) every time you pass the various levels.
Each level has a different difficulty, depending on the size of the area and the wind.
You can play with the USB gamepad or even with the keyboard and mouse even if it would take an extra hand.
In the future it could also open up to multiplayer play with online challenges between players from all over the world.
4)
Heli-X Flight Simulator
is, first of all, a helicopter simulator, but the free version also includes the ability to drive a quadcopter drone, the DJI Phantom.
Heli-X offers a training scenario to test our skills, with missions and rewards, albeit in a free version with only two airports and only one training course.
Those who want even more and are willing to spend some money can buy some of the professional drone simulator games like:
- Drone Sim Pro (demo available for Windows and Mac)
- Realflight Drone
- Aerofly RC 7
- Liftoff
Those who want a simpler free simulator, on the other hand, can download the game for free
Drone Flight Simulator 3D
via Windows 10.
4 Free drone simulators with racing and driving courses