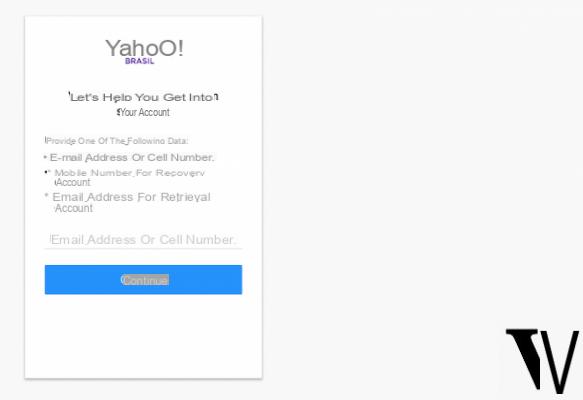 How to change Yahoo 2021 password: all methods
First, if you don't remember your Yahoo password, we recommend that you change it to recover your data. Here's how to do it:
Change the Yahoo password from the browser on the PC
First, you will need to open the Yahoo security page within your browser. It doesn't matter if you use Chrome, Safari or Firefox, the steps to follow are the same. In fact you will have to:
click Change Password from the security page of your account.
Enter the new password desired and complete the procedure by clicking on Continue.
Unfortunately, however, in these cases it may be necessary to know the old password. If not, follow the instructions we have entered below.
Recover your Yahoo mail by changing the password on the app
To change your password directly from the app you have installed on your mobile phone or tablet, you will need to access the menu by pressing on 3 lines at the top or alternatively, if you use the email app, by clicking on Manage account. The path to follow is as follows:
Press on Account info and then on Security settings.
Enter your security code and then select the item Change Password.
Enter the desired text string and complete the procedure by clicking on Continue.
You can follow this procedure whether you have the app for Android or the one compatible with Apple devices:
How to recover forgotten Yahoo password
If you have lost your password or do not remember it, to recover it, just follow our instructions carefully. Read carefully the tips we have included below!
How to recover Yahoo mail password from browser on PC
To be able to retrieve Yahoo accounts directly from your PC, you will need to use the tool made available by the official website. The steps to follow are these:
Open the help page directly in your browser.
Enter yours phone number or email to recover the Yahoo password.
Press on Continue and follow the instructions given.
Simple, isn't it?
How to perform password recovery through the app
If you have already installed the application on your phone or tablet but can't access it why you forgot your password, these are the steps you need to follow:
Open the app and click on Sign in with Yahoo selecting immediately after the item Non Riesci ad accere?
Enter the data required to perform the recovery, such as the telephone number or another emails recovery.
Press on Continue to start the recovery process.
Depending on your choice, you will see a new page appear asking you for further information, such as for example to enter the first digits of your mobile number or the code received in the indicated email. The procedure is therefore identical to that already reported for changing Yahoo password.
Find the Yahoo password through Chrome
Chrome, as well as other browsers, saves all passwords entered during login and also allows you to view them. If when the browser asked you to save your password, you clicked on Save, well you can recover Yahoo password without questions by carefully following the path:
Press on three dots at the top right and select the item Settings.
Choose the option Advanced and scroll until you get to Manage passwords.
Search the Yahoo site by entering your address in the box above and click on the a icon eye shape to be able to view it.
If you have entered a security code on your PC, you will also need to enter it here in order to view your saved passwords.
Rely on a password manager
If you have already lost passwords and want a secure way to keep the Yahoo password you just recovered, the solution is Lastpass! It is a software to download and install on your tablet or smartphone, which stores your passwords and allows you to access them using your biometric data. Once downloaded and installed, we recommend that you set the Face ID as access following the path: Settings - Security - Enable Face ID or fingerprint recognition.
Once you have saved all your passwords, to access them, simply open the app and click on Forgotten Password. In addition, Lastpass it can even send you some clues to help you remember the password you set yourself when you enter the code to save for the first time.
I can't log into my Yahoo email - what to do?
If you can't log into your account anymore, there could be tons of causes so let's go through each one with the necessary solutions. Here's what they are:
You get the error: "Invalid ID or password"
It is a common mistake and that appears whenever the username and password entered do not match the data saved by the site. To overcome this problem you will need to take some precautions:
Make sure you have entered the data correctly and that you have not accidentally activated the key for the uppercase or Num Lock.
Do not use the automatic compilation proposed by your browser. You may have accidentally changed the settings, saving a mismatched password.
We advise you to to attempt access from another browser or directly from the app.
If you do not remember your password, follow the instructions above to change it.
You get the message: is this the first time you log in from here?
If this is your very first time using a device, browser, or other location to log into your account, you need to know that Yahoo requires a verification code to verify your identity. It is therefore important that you have updated your data by entering a valid email or phone number where you will receive a message containing the code.
You've made too many attempts and your Yahoo account is locked
If you have entered an incorrect password too many times, it may happen that the site temporarily blocks your account, thus protecting your data. This system is extremely effective against hackers or unwanted third parties and yes starts every time:
Too many login attempts are detected with incorrect passwords.
The address IP changes or is hidden.
There have been login attempts from different locations.
The login screen reloads continuously
If your page keeps reloading every time you enter your details and press on the item Log in, means that you need to change your login cookies. We therefore recommend that you delete your browser's cookies and restart it to see if the problem recurs. Alternatively, use another browser or page to log in or click on Is not you on the login page and then re-enter your details.
Password and Yahoo account recovery: we eliminate all doubts
Still have any doubts or questions? Read the solutions carefully and the answers to the FAQ that we have inserted below!
Is it possible to recover Yahoo password without questions?
If you need to recover your password without answering the security questions you set, you will need to contact Yahoo! Alternatively, you can always use the methods already covered, taking advantage of yours phone number or email to carry out the recovery.
Why do I need to change my Yahoo password?
To keep safety levels high and to minimize access to hackers or third parties as much as possible, it is advisable to periodically change your password. What's more, if the site notices unusual activity on your account or if you set an insecure password, it may ask you to change it.
Is it possible to have different Yahoo passwords for mobile devices and computers?
No, the password you select is the same for both PC and mobile devices. To access your account you will therefore need to make sure that you have entered your details correctly.