Wrong is human, it happens to everyone. But when the mistake is to delete a photo you cared so much about and you don't know how to remedy the situation, well, the psychological kickback is inevitable. You know that, don't you?
It just happened: you were doing some cleaning up on your Android smartphone, you had one too many "taps" and accidentally deleted some images you never wanted to delete. And now what? How do you do it? I don't want to deceive you, but maybe the last word hasn't been said yet. With a bit of luck you might be able to solve the problem and recover - at least partially - the data you deleted from the memory of your mobile phone. How? I'll tell you how.
If the portion of memory on which the pictures were stored has not yet been overwritten i.e. it has not yet been occupied by other data, you may be able to recover your photos relatively quickly and easily. If you'd like to give it a try, I know a couple of apps that might be good for you: install them and try using them by following the instructions on how to recover deleted Android images below. I'll keep my fingers crossed for you and give you a big "good luck" so everything goes smoothly!
Preliminary operations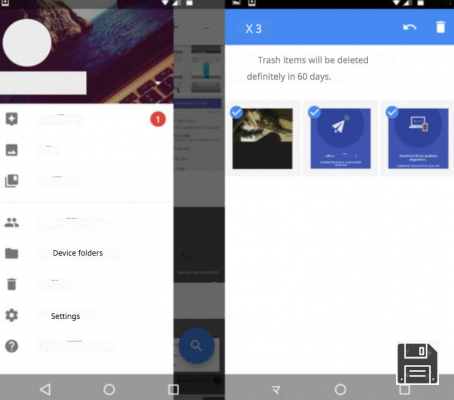 Before getting into the heart of this tutorial and find out together how to recover deleted Android images, I want to give you a tip, probably trivial, but it's always better to follow for safety: open the Photo app and check what's in its basket!
Maybe not everyone knows it, but the images that you delete from the Android gallery are not immediately deleted from the phone, they end up in a "basket" in which they remain for about 60 days (and then be deleted permanently). If you have deleted your photos using the standard Android application and you haven't emptied the recycle bin yet, you should be able to recover all the images without using more advanced tools.
To restore the photos in the Android recycle bin, open the Photos app, press on the burger icon located at the top left and select Trash from the bar on the side. Then locate the images you want to recover, keep your finger pressed on their thumbnails and press the arrow at the top right to recover them.
DiskDigger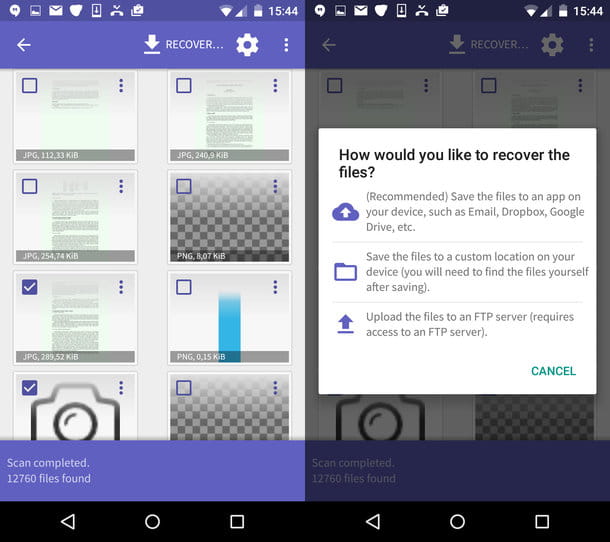 I've tried several applications to recover deleted Android images. The one that seemed more effective in relation to its ease of use is DiskDigger, which is available in two versions: a free one that allows you to recover only files in JPG and PNG format and a paid one (3.37 euros) that allows you to recover other formats of images, documents, videos, applications and compressed archives.
In both versions, the app requires root to work best. If you don't do root on Android you'll only be able to use it partially, in short, not all areas of your smartphone's memory will be scanned and you'll only be able to retrieve low-definition images.
Are you ready to get started? Perfect, then download DiskDigger from Google Play Store and start it. Then authorize the application to take advantage of root permissions by pressing the Grant button that appears in the center of the screen and wait a few seconds for the smartphone memory to be analyzed. If you're using the free version of the app and are asked to switch to the Pro, press No, thank you to decline the invitation.
At this point, select the drive related to the smartphone memory (/data) or SD card on which the pictures you deleted by mistake were located, put a check mark next to the JPG and PNG entries and press the OK button to start searching for files that can still be recovered.
The scan will go on for several minutes (its duration depends on the amount of data to be examined and the power of the smartphone in use). At the end of the procedure, select the thumbnails of the pictures you want to recover, press the Recover button at the top right and choose whether to save them in a folder on your phone (by pressing the folder icon) or share them with another app, such as a cloud storage service or an email client (by pressing the cloud icon).
PhotoRec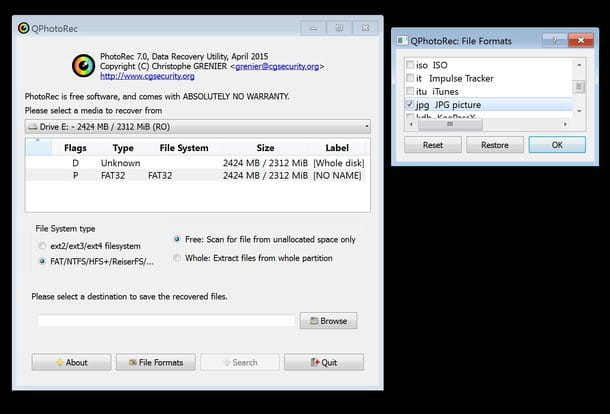 If your smartphone has expandable memory, and then the photos are saved on a microSD instead of the device's internal memory, you can try to recover deleted pictures with PhotoRec, a free and open source software available for Windows, Mac OS X and Linux.
PhotoRec is distributed with TestDisk, another program that allows you to restore lost partitions and repair damaged disks. To download both software on your PC, please connect to this website and click on the item related to the operating system installed on your PC: in my example I will use Windows (click on the "Windows" link even if you use a 64 bit version of Windows).
When the download is complete, open the zip archive containing PhotoRec, extract the content to any folder and start the qphotorec_win.exe executable.
In the window that pops up, expand the drop-down menu at the top and select your computer's SD or USB drive (depending on whether you inserted the microSD into your computer's SD slot or used a USB adapter). When it's done, select the primary SD card partition (it should be the one named FAT32 or exFAT), check the box next to FAT/NTFS/HFS+/ReiferFS and Free and press the Browse button to select the folder where PhotoRec will save the images it can recover.
Once you pass this step too, click the File formats button, press the Reset button and just tick next to the image formats you want to recover from SD card: JPG, PNG, GIF etc. To finish, click OK and Search and patiently wait for all the recoverable images to be recovered from PhotoRec. It may take quite a few minutes.
At the end of the procedure, you will find all the photos recovered by PhotoRec in the folder you selected before by clicking the Browse button.
Note: If your smartphone doesn't have expandable memory, or the pictures to recover were on its internal memory, you can try to connect the device to your PC (via USB cable) and use PhotoRec on its memory. In order to succeed, you need to activate USB debugging on Android. If you don't know how to do it, go to Settings menu > Phone info, press Buid number seven times in a row and select USB Debug from Developer Options menu (which will appear almost like magic in Android settings).