If the Fire TV Stick becomes slow to open videos and applications, you need to free up space from the internal memory; let's see how to do it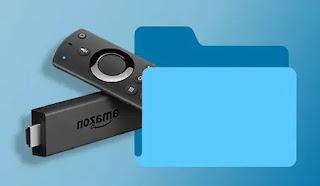 The Fire TV Stick is a really good device, not only for adding apps to an old TV, but also for enhancing the capabilities of a Smart TV, which (if it's not Android) is often limited to a few apps and doesn't have a browser. effective web. The main flaw of the Fire TV Stick, both the standard version and the 4K version, is the limited memory to 8GB, which is very little. Of that 8GB built-in memory, only about 5-6GB is available for installing apps and games, downloading files, and other tasks. Then, when the free memory of the streaming stick is reduced, problems arise, not only in the inability to install other applications, but also in the malfunction of the current ones. In the worst cases
low memory becomes a cause of problems
to start videos on Netflix or other streaming movie apps.
To avoid low performance, slow video streaming and other technical problems
, it is essential to always keep some free memory on the Fire Stick. Occasionally, therefore, it is necessary
check the memory status of the Amazon streaming stick
to see if the amount of free storage space is at least 1 Giga or less.
ALSO READ:
Amazon Fire TV Stick guide with hidden tricks, apps and features
How to free up memory on Fire Stick
First of all, you need to check the memory status and verify how much free memory is available. To do this, follow these instructions.
Press and hold the central button on the remote control or go to the top menu to enter the Settings.
From the Settings, open the My Fire TV menu and then press on Information
Going up Archiving to see the amount of total and available memory.
If the free memory is almost full, or in any case if it is less than 1 GB and you experience delays in opening applications and streaming videos, you need to free up space on the Fire TV Stick. To do this, there are three ways:
1)
Uninstall unused apps
Applications installed from the Appstore take up a considerable portion of the storage space of a Fire TV Stick, especially games. If your Fire TV Stick is running out of storage space, you need to uninstall apps that you use little (except native apps like Amazon Music, Amazon Video which are pre-installed in your system).
To uninstall applications on the Fire TV Stick, open Settings, go to Applications and then click
Manage installed applications
and then scroll through the list to identify the apps to remove, also based on the space it occupies, indicated on the right.
To delete an app, press on it and then choose the option
Uninstall
. The application will be removed completely, thus freeing up space on your device.
2)
Clear data and cache for each app
For the applications that you use most and that we do not want to remove (or the pre-installed ones that we cannot uninstall), in the same Manage Applications menu you can select the Clear data and Clear Cache options.
The first option,
Delete Data
, does a factory reset of the app by deleting all personalizations and account data; so if you use this option on Netflix, you will need to log in your account again. If you want to keep an app installed but never used, it's worth deleting data to save space.
The option
Clean Cache
instead, it removes temporary application data. It can therefore be used with Netflix, Amazon Prime Video and any other app without losing any custom data.
The space occupied by Data and Cache is indicated in the right column, for each application in the list.
3)
Reset the Fire TV Stick
If your Fire Stick TV has frequent problems or errors that can't be solved even by freeing up memory, then it's worth using the reset function. When you reset the Fire TV Stick, the device reverts to its initial state, as it was when it was first used. All the apps will then be removed at once, all personal data, wifi connection data and even the Amazon account will be reset and reset. Factory reset can help solve many Fire TV Stick problems, However, it is recommended to perform a factory reset to free up storage space only when methods 1 and 2 did not work.
To factory reset the Fire TV Stick, go to Settings> My Fire TV, scroll down the options and choose
Factory information reset
.
ALSO READ:
Optimize the Fire Stick for fast video streaming to TV