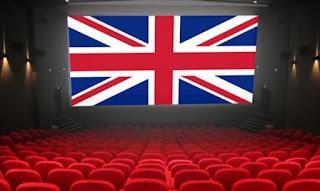 English is a required language in a multitude of fields and jobs, to the point that it has become in effect the world language par excellence: there is no city where we cannot meet a person who can understand us and speak English as a language. common, without necessarily having to learn the local language. One of the most effective methods of learning this language involves
often watch films in English
, using subtitles at the beginning of our practice period to associate the meaning of the words with our language and, after many months of practice, seeing an entire film in English without subtitles, so that we can test our language skills.
In this guide we will show you all
sites where you can watch films in English for free
and we will also show you how to take advantage of Plex to automatically add subtitles to English movies already downloaded to our computer.
Free movies
In the chapters below we will show you the best sites where you can see
free English movies legally
, so we will not find
no pirate streaming sites
or that openly violates copyright. In addition we will also show you how to add subtitles to all the movies we already have via Plex or via VLC.
Sites to watch movies in English for free
One of the best sites to watch English movies for free is without a doubt Amazon Prime Video.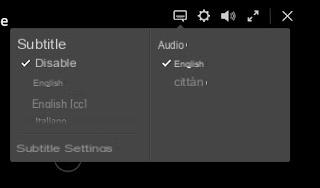 If we have a subscription to
Amazon Prime
(which we remember was born with the aim of offering fast and unlimited shipments at € 36 per year), the Prime Video section is included in the price without having to spend additional money to see the films, so in fact it is free (or semi-free if we want to be very precise). To see a film in English we choose what to display in the catalog, click on
Play
and, once the video has started, select the subtitle icon at the top to change the language of the film and activate any subtitles.
To learn more we can also read our guide on
Movies and TV Series on Amazon Video, free for Prime subscribers
.
Another site we can use to view English movies for free is YouTube.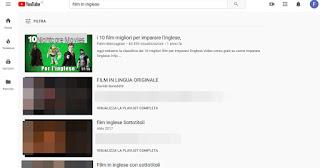 On the famous video sharing site we can find numerous film clips with and without your language subtitles and complete playlists with courses and insights on the English language. If we find a video or movie on YouTube in English and we want to activate subtitles, we can also take advantage of the automatic system of the site, by pressing the icon in the form of subtitles and choosing
city ​​(automatically generated)
.
Among the best free sites to watch films in English we could not forget VVVVID.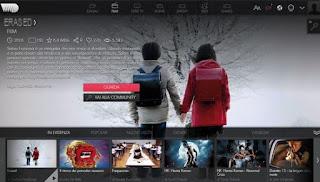 With a simple free registration we will have access to numerous independent films produced in English with subtitles, so that we can learn the language even from lesser-known films. On this platform we also find Japanese films with English and subtitles, ideal for those who love manga and anime.
Il
Plex Movies site
has a section of movies freely viewable online or through the Plex program. Plex is one of the best known media server platforms, which in 2019 also opened a section of free movies to watch, legal, even if all in their original language, in English.
The last site we recommend you visit to watch English films for free is Open Culture.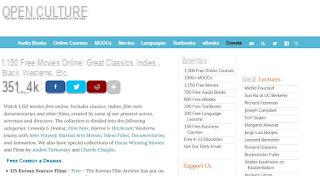 All the films hosted on the site can be viewed for free and without registration, just click on the button
Free
next to the title of the film to start and, immediately after, press the button
CC
to show subtitles (in English). Subtitles are not available, so we advise you to use this site to test our understanding of the language also by reading the English subtitles.
How to add subtitles with Plex
If we have English movies downloaded and stored on our hard drive, we can view them on the TV or other device on the home network using the Plex media server.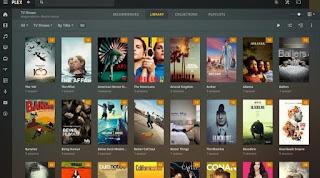 Once added to the media server, make sure to activate the scanning agent for subtitles, by pressing the gear icon at the top, pressing on the item
Area
and making sure to activate
OpenSubtitles
(for subtitles taken from the Internet) or
Local files
(to add local subtitles on the disc). In this way, before starting any film, we will be able to choose the English language (if any) and the subtitles in english or other language (according to our skill level).
To learn more, we invite you to also read our articles
How to download Plex on PC, TV, Android, iOS, NAS
e
Complete guide to Plex, the media player with active transcoding
.
How to add subtitles with VLC
Without bothering Plex we can add subtitles to our English films (downloaded to your computer) using the free VLC program.
To add subtitles, open VLC, click on Media -> Open file at the top and select the English film to play; as soon as the playback is started, we pause the film, click at the top on
Show
and select the menu
VLSub
.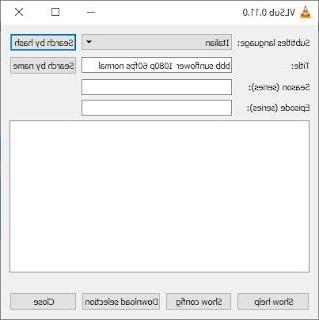 A new window will open where we can search for free subtitles by name or hash, so that we can add them to the movie being played by selecting the right file and pressing the button
Download selection
. Immediately after downloading we click on the menu
Subtitle
and select the file you just downloaded, so as to view the subtitles while watching.
On the same topic we can read our guide on how
Use SRT files to add subtitles to movies
.
Conclusions
To see films in English for free, you don't need to pay any subscription, as there are various sites that we can use to quickly learn the language and understand it better, even with the help of subtitles. In case we already have English films downloaded on your computer, Plex and VLC will help us to add subtitles in other language (for beginners) and in English (for those who want to deepen the language) on the fly.
If we want the films in our language, we can see the list of
best sites to watch streaming movies on the internet
and Apps to watch movies for free.
If we want to learn the English language at all costs, we can continue reading our articles
Best Apps for Learning English on Android and iPhone
.
How to watch English movies for free