From ForDataRecovery we want to explain you How to Recover Deleted SMS from Huawei (of any model, either p20 lite or any other). To perform a SMS or Message data recovery, you will need your Huawei Android device. We will show you how to do it with and without Backup and with some Apps. Stick around to find out how to do it.
How to Recover Deleted Text Messages from Mobile Phone or Cell Phone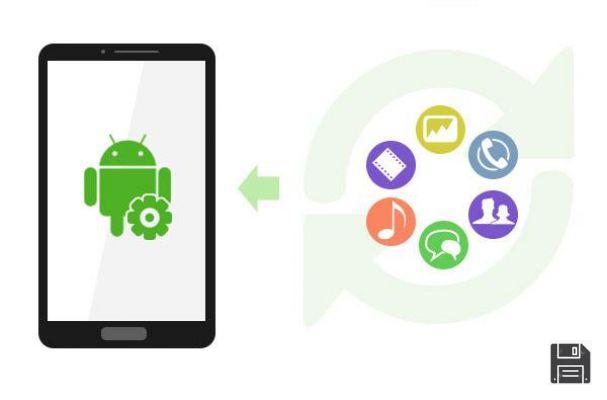 Have you accidentally deleted some messages from your Huawei smartphone and now you are desperate because you don't know how to recover them? As I understand, you didn't make any backup of the SMS in question, right? Then you just have to cross your fingers and hope that the portion of memory where the messages you want to recover were stored has not been occupied by other data: in that case, using data recovery apps or programs, you may succeed. However, if this is not the case, sorry, but you will have to give up the idea of being able to recover messages and take this lesson for good, starting to make regular backups of your smartphone data.
But do not worry before you break it: take a few minutes of your free time, carefully analyze the solutions that I am going to propose and try to find the one that suits you best. So follow the instructions I'm about to give you and cross your fingers that your messages are still there, ready to be recovered. As you can easily guess, the less you use your smartphone, the less likely you are to overwrite the portions of memory where the deleted SMS were, so I invite you not to download apps, surf the internet or perform other activities with your phone before trying to recover SMS.
All clear? Well, then I'd say it's time to put the chitchat aside and get down to action by looking at how to recover deleted sms from Huawei. For the tutorial I used a P9 Lite equipped with Android 6.0, but the solutions shown in the tutorial are valid for all models of smartphones of the Chinese company and for all versions of Android. Enjoy reading and good luck in your "mission" today.
Preliminary information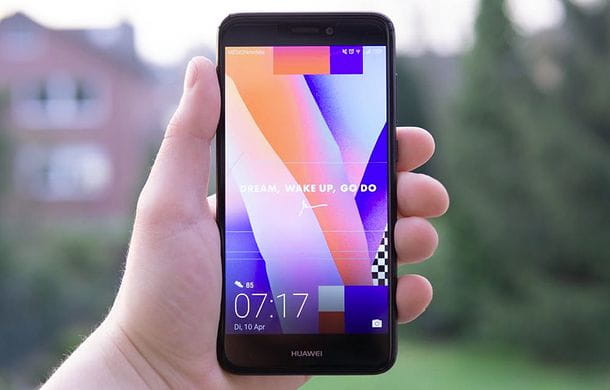 Before getting into the nitty-gritty of the tutorial, a couple of important clarifications are in order. First of all, some of the data recovery solutions I'm going to talk about in the tutorial require root, that is, the procedure that allows you to "unlock" Android devices by bypassing the standard system restrictions and allowing the execution of operations and apps that would not normally be allowed (including the recovery of deleted data from the smartphone's memory).
The procedure in question is not difficult to implement, but it is quite time-consuming and, more importantly, can lead to the deletion of data on the device (if you have to unlock the bootloader), as well as the loss of warranty. If you want to know more, read my tutorial on how to unlock a Huawei device.
Another important thing to note (or rather, to reiterate, because I already told you at the beginning of the post) concerns the fact that when using the smartphone, you run the risk of overwriting the messages to be recovered, to then go occupying with other data the portion of memory where the deleted SMS were housed. This means that using data recovery applications that work directly on the smartphone is more "risky" than using PC software (although even the latter can add new software on the phone). That said, I would say that we can indeed take action.
Free Deleted Cell Phone Text Message Recovery Program
Free Huawei Deleted SMS Recovery Application
If you want to recover deleted SMS from a Huawei smartphone without having to connect the device to the computer, this is what you need: applications that you can install and use directly on Android.
EaseUS MobiSaver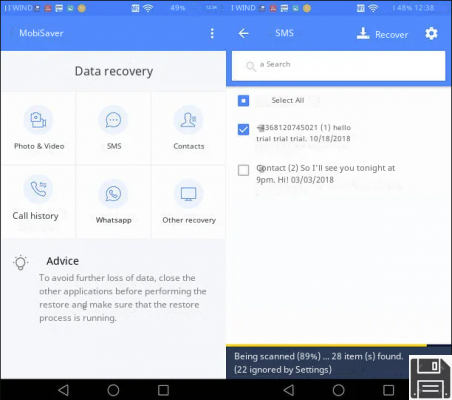 Of the many data recovery apps I've had the opportunity to try, EaseUS MobiSaver is one of the ones that gave me the best results. The mobile counterpart of a popular computer data recovery software, it allows you to recover not only messages, but also photos, contacts, call history, WhatsApp chats and other data, but unfortunately it's not free.
EaseUS MobiSaver allows you to recover JPG and MP4 files for free, but as for SMS, it only allows you to view them and not export them. To export them, an in-app purchase of €6.49 is required. Rooting is not necessary for SMS, but it is useful for retrieving photos and videos (as it requires a deeper analysis of the phone's memory).
That said, open the Play Store page dedicated to EaseUS MobiSaver on your Huawei smartphone and click the Install button. Next, launch the application and, if you have a terminal that has gone through the root procedure, click the Grant button to give it administrative rights (and thus perform a "deeper" scan of the device's memory).
At this point, click the SMS button, allow EaseUS MobiSaver to access the SMS by replying Allow to the warnings that appear on the screen and wait a few seconds, until the scan comes to an end.
Once the scan is completed, you can read the conversations found by the application, by clicking on their titles, and export them, by clicking on the Recover button located in the upper right corner (this operation is only available after purchasing the full version of EaseUS MobiSaver).
Software to recover deleted Huawei SMS messages
Now let's move on to the software programs that allow you to recover deleted SMS from Huawei devices by connecting to them. What do you need to use them? The USB cable that came with the phone and some free time.
iReparo for Android (Windows/MacOS)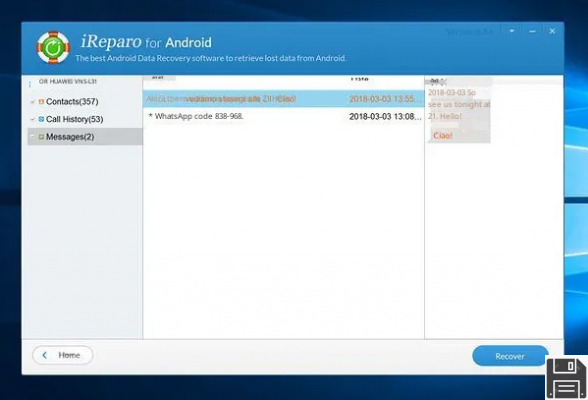 iReparo for Android is a program for Windows and macOS that allows you to recover messages, contacts, WhatsApp chats, photos and videos from your Android devices. It doesn't require rooting to work, but it costs $49.95, although there is a free trial version that allows you to preview all recoverable SMS messages (but you can't export them).
If you are interested in trying the program, connect to its official website, click on the Windows or Mac tab (depending on the operating system you use on your computer) and click on the download button at the bottom: this will start the download of the software installation package.
Once the download is complete, if you are using a Windows PC, open the .exe file and click the Yes and OK buttons. Check the box next to I accept the agreement and complete the setup by clicking the Next button four times in a row and then clicking Install and Finish.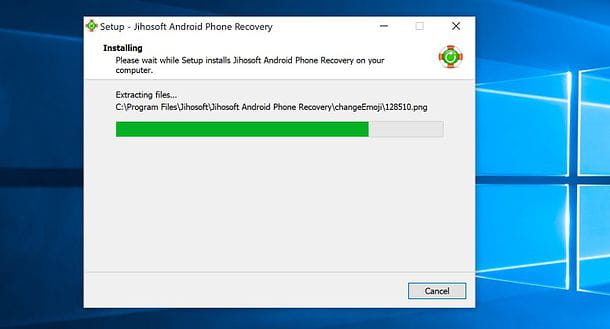 However, if you have a Mac, to install iReparo for Android you have to open the pkg package you downloaded from the Internet and click first on the Continue button twice in a row and then on Install. Next, you have to type the password of your macOS user account and click on Install Software and Move to finish the setup.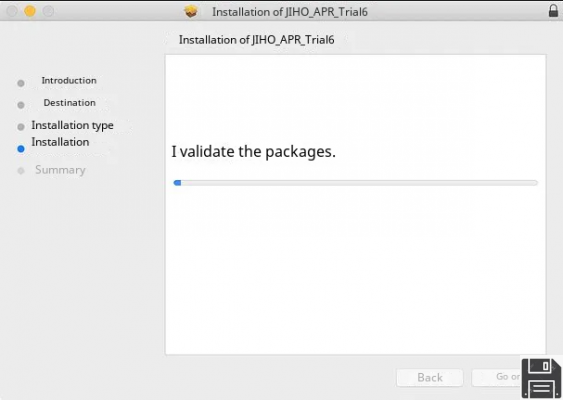 Once the installation is complete, connect the smartphone from which you want to recover deleted messages to the computer and enable the USB debugging mode on the latter: if you do not know what it is, you should know that this is a special mode for connecting Android devices to the computer and, to activate it, you must first enable the display of the "Developer Options" on your smartphone.
Go to Settings > About phone and tap seven times in a row on Serial number (or Build number). Next, go to Settings > Developer Options and check the USB debugging option.
Next, launch iReparo for Android on your computer and click the Contact, SMS, Call Log button in iReparo for Android. Your smartphone will show some USB debugging requests: answer yes to them and check the option to save the choice. Then click the Start button in iReparo for Android to start searching for deleted SMS.
After a few seconds, a backup request should appear on your phone's screen: choose whether to accept it or not, then go back to your computer and click Yes and Start to start scanning your smartphone's memory.
Mission accomplished! Now you just have to wait for the scan to finish, select Messages in the sidebar of iReparo for Android and click on the messages you want to view.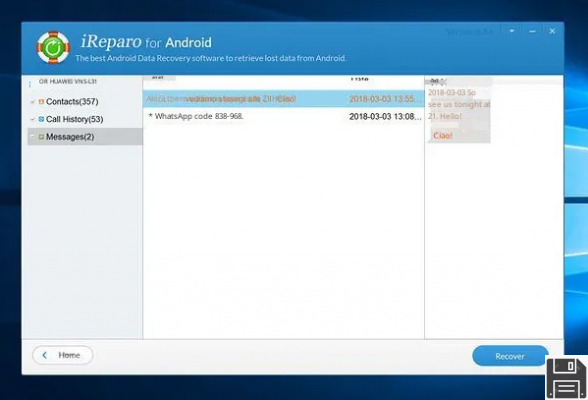 If you have purchased the full version of the program and therefore you can also export the selected SMS, click on the Recover button (bottom right) to complete the operation.
Note: iReparo for Android may remove the SuperSu application from rooted devices. To fix it, just reinstall the app from the Play Store or Recovery.
EaseUS MobiSaver for Android (Windows)
In case iReparo for Android doesn't meet your expectations, you can turn to EaseUS MobiSaver for Android, the desktop version of the smartphone app I mentioned above. It is only available for Windows and has the limitation of being able to export only one file at a time from the selected ones (feeds have to upgrade to the Pro version, which costs €36.95). It also requires root. It allows you to recover not only SMS, but also photos, videos, contacts, WhatsApp chats and other data.
To download it on your PC, go to its official website and click on the free download button. Once the download is complete, open the .exe file and click Yes and then OK. Next, check the box next to I accept the agreement and finish the setup by clicking the Next button four times in a row and then click Install, Install and Finish. Uncheck the Participate in customer experience improvement program option to not send usage statistics to EaseUS.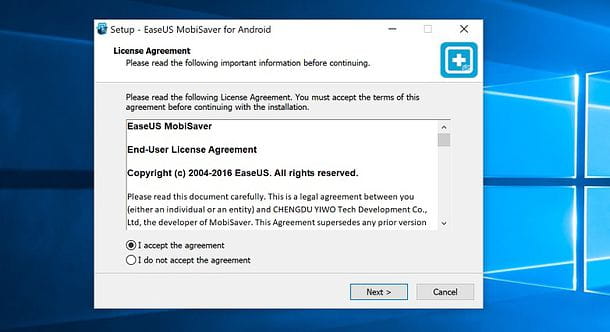 Now all you have to do is connect your phone to your computer, enable USB debugging (as I explained in the chapter dedicated to iReparo for Android) and start EaseUS MobiSaver. When you see the name of the smartphone appear in the program window, press the Start button, answer yes to the messages about USB debugging and root that appear on the phone and check the Allow always from this computer to store the choice made.
Once the smartphone scan is complete, select the Messages item from the EaseUS MobiSaver for Android sidebar, place a check mark next to the title of the message you want to recover (in HTML format, i.e. as a web page) and click the Recover button. Finally, choose the folder where you want to export the message and press Enter.
Recover Deleted SMS Without Backup
Other useful solutions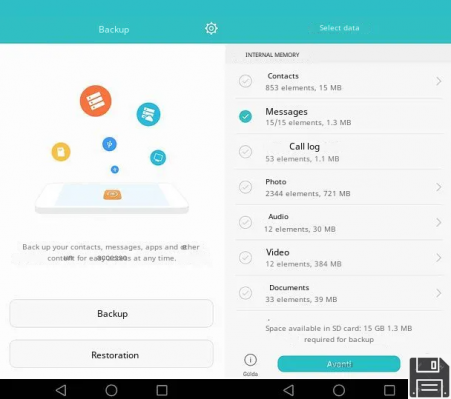 Whether you have managed to recover deleted SMS from your smartphone or not, it is important that you do not make the same mistake again, risking losing important information forever. Therefore, I suggest you take some time and follow my tutorial on how to backup Huawei, in which I have recommended a number of apps and PC programs that allow you to save your device data (both locally and in the cloud) and restore them when you need them.
Among the best such solutions, I suggest you first try Huawei Backup for Android and HiSuite for Windows and macOS, which are Huawei's official solutions for data backup. After that, I suggest you take a look at third-party solutions like SMS Backup & Restore (a great free app that lets you backup and restore SMS, which I told you about in detail in this tutorial) and Titanium Backup (an all-in-one app that lets you backup apps and their data, which I told you about in this other guide). Do this and you won't have to sweat anymore in case you delete SMS by accident.
Frequently asked questions and answers
Recover deleted texts from the back: Go to Settings; Backup and amplify; restart and check your last data backup.
If you have a free backup, you can restore the backup and recover your deleted text messages.

Back up WhatsApp by going to the application settings.
If you notice that the other person deleted messages you should uninstall WhatsApp from your mobile and start the account again by restoring the last backup.

Open the app, pull down the side menu and choose Restore.
Choose the location where you made the backup: phone, Google Drive, Dropbox or One Drive.
On the next screen, choose what you want to recover (SMS, calls or both).
Then click on Restore.

Search for "file recovery" in the Google Play Store and install one of the apps.
Use the app to search your phone.
If you are unable to recover recently deleted items, try connecting your phone to the computer via USB cable and use a desktop program to recover files.

Compilation of frequently asked questions that our users have sent us and that our experts have answered.