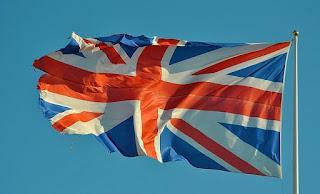 Learning languages ​​on the Internet today is absolutely possible thanks to the emergence of various websites that connect people from all over the world and offer valuable learning aid. Just surfing the Internet on many foreign sites (for example English or US) will allow you to apply all the notions learned at school, so as to drastically improve the learning of the language.
In this article we focus on researching more specifically to learn a new language, whether English or otherwise: we will show you in detail the excellent
online and free courses
to learn to
speak and write a foreign language
, so that you can plan in time a trip to another country whose language you do not know well.
Learn foreign languages ​​for free online
A good part of the sites listed below offer free lessons for the chosen language, useful for starting to learn grammar and the basic rules for good communication; we will not be able to make long speeches or read an entire book but what we have learned is sufficient to at least overcome the language barrier.
Babbel
Babbel is
the most popular web application
to learn languages, choosing from English, French, Spanish, German and other languages.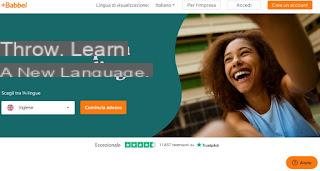 From this site we can choose the starting level of the language you want to learn or deepen and, depending on it, many exercises and written and audio activities are offered.
There are also several games and lessons aimed at topics and contexts, such as, for example, dialogue at the supermarket, dialogue at school, looking for road information and so on.
The social network component is not forgotten and you can make new friends with whom you can exchange words and practice the use of the language.
Babbel is also available as an app for Android and iPhone.
Busuu
Another great site for learning a new language quickly is Busuu.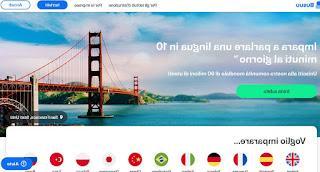 It comes as a complete site where you can
learn several foreign languages ​​with interactive language courses and conversation
. You can communicate directly with native speakers in order to get help with practical exercises. Each language course consists of several units depending on the degree of learning. Each unit is basically a conversation topic and an image-based vocabulary for each topic is also included.
At the end there is also the final exam and a ranking based on learning performance and the number of correct answers. You can use Busuu with the free plan or by paying for a subscription with additional options and educational materials to download.
Busuu allows you to learn languages
English, French, Spanish, German, Russian, , Portuguese, Polish, Turkish, Arabic, Japanese and Chinese
.
If you are interested in the mobile version, we can download the Busuu app for Android and iPhone.
Pronunciator
Pronunciationtor is a great site, for
learn foreign languages ​​online, English, German, French, Spanish and many more
.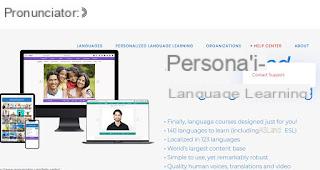 Just indicate immediately the mother tongue and the language you want to learn, choose your level,
follow the lessons and the personalized online course and then face quizzes and tests
of learning.
You can learn to read, write and listen to the foreign language through the
audio recordings
and we can enlist the help of language experts to be able to start speaking in a few months.
Memrise
Memrise
and the
best site to learn foreign language words quickly
, where you can choose an online course and which language you want to learn and take the visual lessons
learning as many words as possible, in no time
.
Memrise takes a new vision of language-based online learning and uses a fun and easy mnemonic approach. Learning the language thus becomes a level game, with
quizzes, videos and questions
to be answered with the aim of memorizing the meaning of as many words as possible. The learning process is divided into several
courses built using images, video, audio and text
. Each new word is introduced with visual impact, displaying an easily remembered phrase or image.
After each lesson, there are tests to verify what has been learned. The site is all graphical, not at all boring and easy to use with large buttons to go back and forth and browse the various flashcards. You can register for free with Memrise to save all your learning progress, courses and memorized words. You can learn the meanings of many words in even difficult languages ​​such as Chinese or German, without too much theory, just with practice.
Rosetta Stone
Another very interesting site for learning a foreign language online is Rosetta Stone.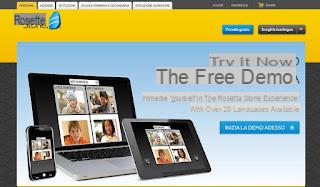 The concept of the site and the apps developed is always inspired by the concept of sharing and exchanging knowledge and, in this case, is geared towards learning languages ​​directly on the web.
You have to register,
select your mother tongue and the one you want to learn
and you also choose whether you start from scratch or the current learning level.
There are around
one million subscribers
and it has become a very polar site in the world considering its social network character. Potentially you can learn all languages, even the
Chinese, Arabic and Indian
because there are people from all over the world.
In the profile you must therefore mark the languages ​​you know and the level, so users can contact each other as needed. The site offers many different tools to do exercises and measure your learning level. Communication is guaranteed, sociability and the possibility of meeting people is certainly higher than in normal social networks, also because, in this context, everyone has a purpose which is to learn languages ​​and the climate of trust is very high.
If we want to learn the language also from smartphones, we can download the Rosetta Stone app for Android and iPhone.
Conversation Exchange
If we want to put everything we have learned into practice, we can get help from the Conversation Exchange platform.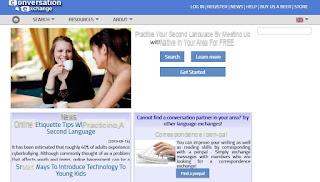 As the name of the site suggests, here we will be able to open a voice chat with other people willing to learn our language or willing to listen to us while we practice, so that we can concretely help us improve.
Obviously the social component is very important, since by learning the language we will be able to meet many people from abroad and thus organize cultural trips to learn the chosen language even better.
Currently the site does not have a smartphone app, so we will necessarily have to use a desktop PC to manage the chats.
Tandem
If we are looking for something similar to Conversation Exchange but also usable from mobile, we can focus on the Tandem platform.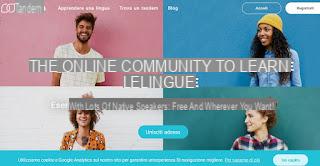 This large community will allow you to learn a new language using social network tools and it is possible to teach others and learn, speaking with real people, a language of your choice.
The site is free and works particularly well as an application for Android and iPhone.
Other sites for learning languages
There are so many sites that we can use to learn foreign languages ​​for free online, written and spoken, with lessons and videos; if we have not found the right service for you among those already mentioned, you can try new services from the following list:
Duolingo app for iPhone, Android and via the web to learn languages ​​by playing
Forvo is the best site to look up how to pronounce a word in any language, a dictionary to learn the pronunciations to always keep at hand.
Rhinospike is a free site that allows you to get the translation of a spoken sentence by a native speaker.
Italki which allows, with a highly professional site, to exchange skills with other users, to find a teacher and teach their language, to download audio and documentary resources, to see educational videos and participate in international communities.
Zaac contains 12 lessons to allow the approach in a fun way English for the little ones.
BBC Languages ​​is an English language site where you can learn French, Greek, German, Chinese and Portuguese. The course lasts 12 weeks and includes audio clips, videos, speeches and interactive exercises.
Aesthetically it is very beautiful to look at and functional so as not to get bored.
Conclusions
Learning languages ​​has never been this fun! With all these sites we will be able to learn a language whatever our level of preparation, using both the PC and the smartphone.
In another article we had seen the
best sites to translate foreign languages ​​online and the best dictionaries
while to hear the pronunciations in English, you can use i
Text-To-Speech online
where you just have to write a word to hear the PC speak.
In another article we can find the sites instead
To learn English online and for free with quizzes and lessons
.
Sites to learn foreign languages ​​online for free with lessons and videos