Adware, unless they have the purpose of spying on computer activities (e
they then become spyware
which are viruses in all respects), they are not security threats, but they can create problems of various kinds.
An adware can make us see
strange things on the screen, changing browser settings, displaying advertising banners everywhere, icons of unwanted programs, constant invitations to purchase other programs and automatically starting processes that slow down Windows.
In the following guide we will show you in detail
the best programs to eliminate adware and spyware nested inside the computer
, so as to avoid the appearance of annoying advertising windows and make the system start-up and the programs on the computer much faster.
How to get rid of adware and spyware on your PC
To eliminate adware
antivirus is not enough but we have to use a
Adware Removal tool
, which is an effective and safe program designed to remove this type of unwanted software. The programs that we are going to point out to you are all free, so we can always keep them at hand and use them periodically (at least once every two months).
Best programs against adware and spyware
1)
AdwCleaner
it is widely considered to be the number one program to remove adware and spyware for free on PC, downloadable for free from the official website of malwarebytes.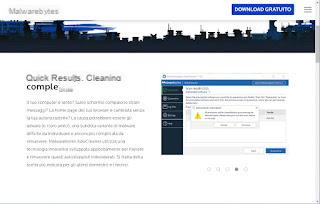 This tool is the most effective, fastest and easiest to use to remove adware and unwanted programs from your computer. To use it, just download the tool from the official website, run it without installing it (it's portable), start a scan and delete everything that is reported during the scan. AdwCleaner is also perfect for
remove viruses from Chrome, Firefox and Edge when slow or with too much advertising
.
2)
S.O.S. Security Suite
it can be used against adware and spyware and can be downloaded for free from the official website.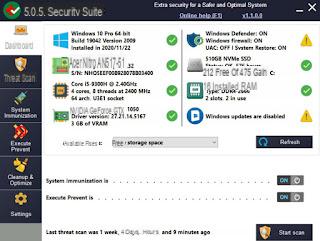 This free program performs excellently in eliminating any adware or spyware from your computer in one go. To use it just download it, start the scan and select the items to delete. The program also offers a browser settings reset and an immunization system, which effectively "vaccinates" sensitive areas of the system and browser making them immune to new adware.
3)
Spybot
is a very famous historical program to fight adware and spyware, downloadable from the official website.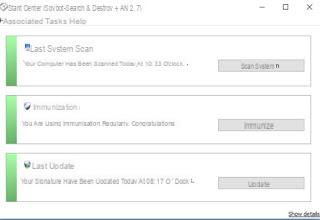 Spybot is a popular program specialized in the removal of spyware and adware of all kinds, thanks to a very accurate scanning system, a state-of-the-art threat removal system and an effective immunization function to prevent any future infection by unwanted programs.
4)
Superantispyware
is another very famous free program, available for download from the official website.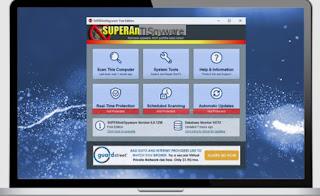 Superantispyware is a very powerful malware and spyware scanner, so much so that it is considered a worthy alternative and a necessary second opinion when trying to remove a virus. The scans are obviously slower than the programs seen so far, but it also allows you to find much more dangerous threats hidden deep in the operating system. With this program we can do a complete security check, as well as find new spyware and adware.
5) Other programs
Those seen above are undoubtedly the best free programs to remove free adware and spyware on PC, but the list of software we can use is long, as shown in the list below:
Dr.Web Curelt: very powerful antimalware scanner, which works effectively in eliminating adware completely, even those that the antivirus does not detect.
Malwarebytes: Another popular piece of software to scan your PC for any threats, including adware and spyware.
Kaspersky Virus Removal Tool: tool developed by Kaspersky to remove viruses, trojans, worms and other types of dangerous malware.
ESET Online Scanner - ESET's online cloud scanner to quickly remove all types of malware.
HitmanPro: one of the most powerful tools, able to remove any threat present on computers; available for free for a limited time.
Let's download them all and place them on an emergency USB stick, so that we can quickly intervene when we encounter an adware or an insidious spyware.
Conclusions
Whatever type of adware or spyware has infected your computer, using the free programs mentioned above we will be able to remove them quickly, leaving no traces of their passage. These programs hardly block the PC like trojans or ransomware, but it is still advisable to intervene as soon as possible to prevent them from replicating and appearing more frequently.
To learn more we can also read our guides
How do you get a new PC without junk and adware?
e
Redirects to unwanted sites; how to remove "Hijacker" malware
.
Programs to remove free adware on PC