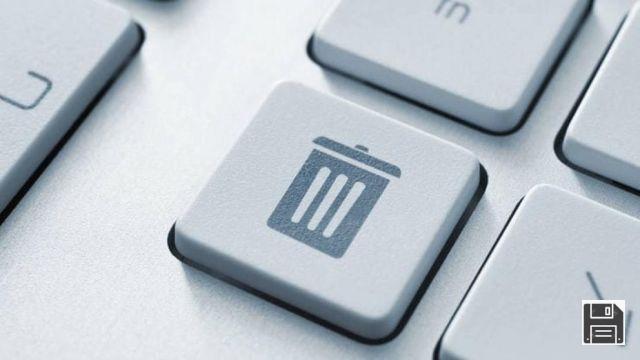 Would you like to recover videos that you deleted by mistake from your Android smartphone but don't know how to do it? If you want, I can help you, but I warn you, the chances of you getting it back are very low. Videos, you should know, are much more prone to corruption than photos or other types of files and, therefore, even if you can recover them, they are often unreadable or partially damaged.
That said, don't give up before you even start! If the portion of memory on which the videos were stored hasn't yet been occupied by other data, you may be able to recover most of your videos without going to specialized companies or industry experts. Come on, don't waste any more time! Take five minutes off and find out how to recover deleted Android videos with the apps I'm about to recommend.
The applications are all very easy to use. Some of them work directly on the smartphone or tablet from which you want to retrieve videos, while others run from your PC. Those that run from the computer are especially suitable for devices with expandable memory, so for those cases where the videos to be recovered are hosted on an SD card and not directly on the memory of a smartphone or tablet. To learn more, read on. I'm keeping my fingers crossed for you so everything goes right!
Getting Started
I know it may sound trivial as advice, but before you see how to recover deleted Android videos with ad hoc apps, try opening the gallery of your smartphone (or tablet) and check that the videos of your interest are not in the trash.
When you delete photos or videos on Android, in fact, they are transferred to a temporary folder (called Trash) where they are kept for 60 days before being permanently deleted. By accessing the recycle bin before this time expires, you are able to view all the deleted photos and videos and recover them with a simple "tap".
To access the recycle bin on your device, open the Google Photo app, press on the burger icon at the top left and select the Trash item from the bar on the side. If the videos you want to retrieve are still available, select them by holding down your finger on their thumbnails and pressing the arrow at the top right to retrieve them.
DiskDigger Pro (Android)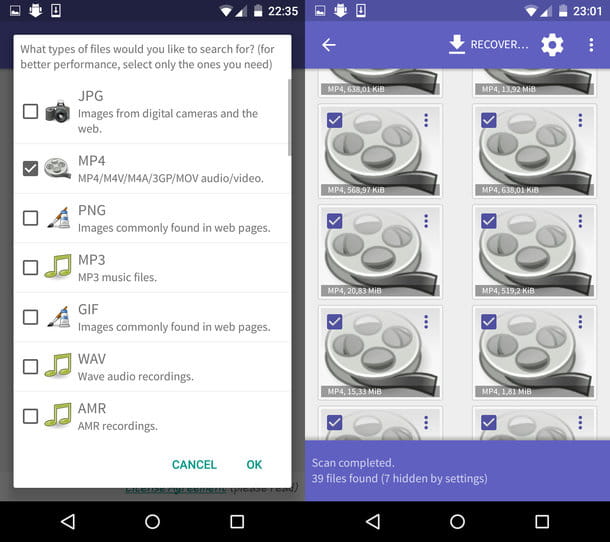 DiskDigger Pro is one of the best applications for recovering deleted files on Android, or at least it is the one that in my tests seemed to offer the best compromise between effectiveness and ease of use. Unfortunately it's not free (it costs 3.37 Euros) and only works if you root on Android, but it has to be said that most data recovery apps are like that.
To test it right away, buy it from the Google Play Store, launch it and give it root permissions by pressing the Grant button that appears in the middle of the screen. Then wait for DiskDigger Pro to examine the memory of your smartphone (or tablet), select the drive from which to recover deleted videos (e.g. /data if it's the internal memory of the device), put a checkmark next to MP4 and press the OK button to start searching for files to recover.
When the scan is finished (this may take several minutes), place a check mark next to the thumbnails of the videos you want to recover, press the Recover button in the top right corner and choose whether to save the movies to a folder on your phone (by "tap" on the folder icon in the box that opens) or save them online via a cloud storage application (by selecting the cloud icon).
As widely pointed out at the beginning of this tutorial, there are high chances that the videos recovered from your smartphone/tablet are partially corrupted. If you can't play them on Android, try transferring them to your computer and feeding them to software like VLC, which can often play back partially corrupted videos.
Undeleter (Android)
In case DiskDigger didn't meet your expectations (or it seems too expensive), consider Undeleter, another Android deleted video recovery app that allows you to restore photos, videos and other types of files quite easily and quickly. You can download it for free from the Google Play Store but to unlock the saving of recovered files you have to buy its full version (which costs 2.75 euros). It needs root to work.
To test the capabilities of Undeleter on your smartphone/tablet, download the application, launch it and give it root permissions by pressing the Grant button in the middle of the screen. Next, select the Restore files option from the screen that opens, choose the drive to scan (the internal storage of the device or the SD card) and choose to start a Deep Scan.
Then select the file types to recover (in your case MP4 and if you want AVI and MKV as well), press the Scan button and patiently wait for the app to do its job. When the videos you're interested in appear (hopefully they will actually appear!), press on their thumbnail to preview them in real time and press on the floppy disk icon (top right) to save them on your smartphone memory or on a cloud storage service of your choice between Dropbox and Google Drive. To complete the save, you will need to unlock the full version of the paid application.
PhotoRec (Windows/Mac/Linux)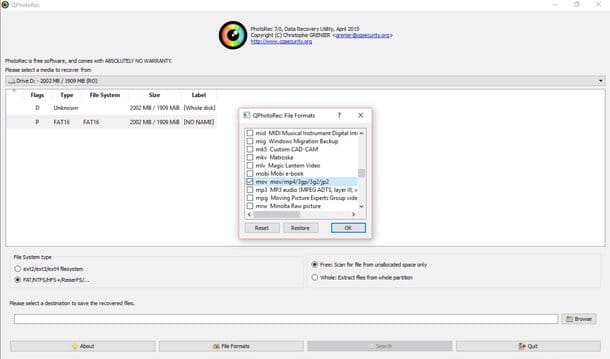 If your smartphone or tablet has expandable memory, so the videos you want to recover are on an SD card, you can insert it into your computer and try to restore the deleted files with PhotoRec.
PhotoRec is a free and open source application that allows you to recover deleted data from a wide range of devices and drives. It is very effective and it is compatible with all major PC operating systems, but today I will specifically focus on its Windows version which has a very easy to use graphical interface.
To download PhotoRec, please connect to its official website and click on Windows item. The software comes paired with TestDisk, a program that can restore lost partitions and make damaged disks bootable again, but we don't care about that, for now we only need PhotoRec.
After the download is complete, open the zip archive you just downloaded to your PC, extract the content to any folder and start the qphotorec_win.exe file. In the window that opens, expand the drop-down menu at the top, select the drive where your microSD resides and click on the primary partition of the card (it should be the one named FAT32, FAT16 or exFAT).
Next, tick next to FAT/NTFS/HFS+/ReiferFS and Free, click the Browse button and choose the folder where you want to save the videos that PhotoRec will recover from your SD. After this step, click the File formats button and choose the file types to recover.
Then click on the Reset button to reset the selection of default file types and tick only next to mov (mov/mp4/3gp/3g2/jp2). To finish, click on the OK and Search buttons and wait for the program to do its job. At the end of the procedure, you will find the videos recovered from PhotoRec in the folder you chose before.
Note: Experienced users can use PhotoRec to recover photos and videos even from smartphones without expandable memory. Just create an image of the device's internal memory, convert it to VHD format and process it into PhotoRec. A comprehensive English tutorial is available on the XDA website for more information.