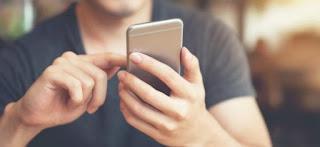 Even if modern telephony offers now include minutes to all mobile phones and landline numbers, we can still find ourselves in the situation where we cannot call landlines because the phone card has run out of credit or we are abroad in external countries. to the European Union and we want to call home to notify without consuming the telephone credit (which in these cases can dry up quite quickly).
In these and many other cases we can
call landline numbers from smartphones for free using the services available via the Web
and reviewed on this page, so as to always have the possibility to call via the Internet using a public WiFi network or a WiFi network of the place where we are staying (a hotel for example).
All the services covered offer credits or free minutes to be able to call any landline number using the Internet and the specific apps for each service.
The services that we are going to see below do not allow you to take advantage of the classic mobile telephone network (it would cost too much!) But instead use the Internet network to get the call to its destination: we connect to the chosen service, enter the telephone number landline to call (complete with international prefix, which for the city is prefix) and the service will divert the call to the traditional telephone network on our behalf, thus allowing us to make a free call to any landline number.
As already mentioned in most cases, and considering that no one gives anything for nothing, in order to continue using the services shown it will be necessary to accumulate a certain amount of free credits, obtainable by carrying out some activities on the smartphone: from watching advertising videos, opening or subscribe to some sponsored sites or install the recommended apps and keep them for a few days.
The business model of these services may be questionable, but as long as it works and allows you to call landlines for free from smartphones, we certainly can't complain.
1)
FreeCalls
The first service that we can use to call landlines from smartphones for free is
FreeCalls
, available for Android from here ->
HiTalk
(Android)
With this app we will be able to call any national and international telephone number through a credit system provided by the service.
The service offers free credits for anyone who wants to see advertising videos: the more advertising videos you see, the more credits you will get and the more calls you can make (one credit corresponds to a certain variable number of minutes).
We then reach the desired credit level and start the call using the integrated numeric keypad; the call will go through the Internet and reach the recipient who can answer as if it were a normal call.
In addition to calls, it allows you to send free text messages and calls between users of the app.
In addition to accumulating credits with videos, we can also purchase them so as to immediately obtain the amount of credits necessary to make the call.
2)
Voxofon
Another app to try on your smartphone to call landlines for free is
Voxofon
, available for download for Android and iOS from here ->
Voxofon
(Android) e
Voxofon
(IOS).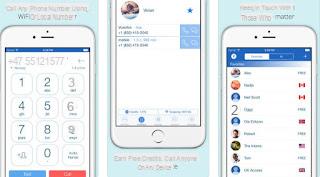 As already seen for the previous app, with Voxofon we will be able to make free calls through a system of credits that can be accumulated by carrying out some operations such as watching advertising videos, adding new friends to the service and sharing the service page on social networks.
This service has the best credit conversion rate, so it takes very little to accumulate the credits needed to make a short call and thus notify relatives and friends with a landline number.
Even with this app we can make unlimited calls and chat between users who use the same app, without using any credit.
3)
Dingtone
Among the best services to call free landlines from smartphones, Dingtone could not fail to report, which has a free downloadable app for Android and iOS devices from here ->
Dingtone
(Android) e
Dingtone
(IOS).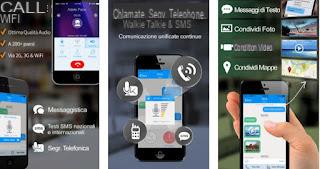 Once the app is installed and subscribed to the service, we can accumulate free credits using the specific Get Free Credit button, which offers various ways to obtain the credits necessary to call any landline number.
For example, you can watch advertising videos (based on the content we can get from 0.5 to 5 credits), by clicking on the item
Complete an offer
you can earn from 5 to 100 credits by subscribing to other sponsored services or by opening some pages marked to generate visits or finally download the apps recommended by the service, in order to obtain additional credits.
Once we have reached the necessary credit numbers, we can call national and international telephone numbers without any limit.
If we don't want to spend credits, just use the app among all the contacts we want to contact, even in conference mode (we can make calls with two or more people).
4)
Rebel
Finally, we point out one of the best services to call landline numbers from smartphones for free, namely Rebtel, available as a free app from the links here ->
Rebel
(Android) e
Rebel
(IOS).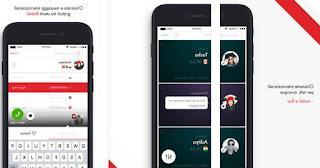 Using this app on our smartphone we will have (as new subscribers to the service) 3 minutes of free test call, which we can use immediately to notify someone or to make a short test call.
If we choose to subscribe instead, we will receive a whole week for free, without limits!
We can accumulate more credits to make free calls from smartphones by convincing other users to download the app and sign up for the service ($ 5 of free credits will be added to the balance for each person convinced to try the service).
If we have tried all the other services and we were not satisfied, we can try Rebtel with the free minutes offered and thus get a real service to call landline numbers from smartphones for free, even if to make longer calls it is necessary to convince many friends to try the service or purchase one of the subscriptions.
How to call landline numbers from smartphones for free