ì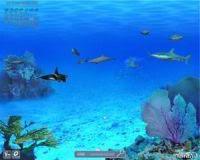 I think that, since the first pc with a graphical interface came out, there has been talk of screensavers! If I remember correctly, when I was given my first computer running Windows 95, the first thing I focused on was looking at and choosing all the numerous screensavers that were available and, on the internet, looking for new and beautiful ones.
Unfortunately, being such a popular product, when looking for screensavers on the internet, you will come across many scam sites, which may want money or install additional and unwanted programs on your computer along with the screensaver.
On this page I make a small list of some
programs
to be installed on pc,
safe and free
, which set one or more
animated screensavers
, beautiful to look at and, on occasion,
Customizable
.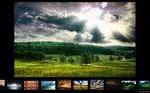 1) First of all, the program
SE-Screensaver
is a
free collection of themes
packaged within a single installable screensaver file.
You can download the portable version of this program which consists of a single .scr file to be copied into the C: / Windows / system32 folder. Once copied, going to desktop properties, SE Screensaver appears among those selectable and, by clicking on the settings, you can choose which theme to use.
Among the 10 choices available, the cutest and most beautiful to look at are that of
Matrix
, with green writings that, with a variable three-dimensional effect, start from afar and come to meet us on the screen. The screensaver
slideshow 2D
instead it allows you to choose a folder of photos or images and set a scrolling of photos on the screen and with, in the lower part, the thumbnails of the images in the chosen folder. The other screensavers available are
digital watches
or analog, sometimes even with calendar and animation, light rays, plasma, trees that grow snow effect and others. All are well designed with bright colors and beautiful to look at. In particular, the one with growing trees is very cute and we happily stop and watch, dazed, as this virtual tree develops. Among the settings you can choose the speed of the animations, their orientation and other things.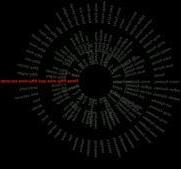 3) Come
clock
, there are many screensavers and, in addition to those found with SE Screensaver, the program mentioned above, I want to point out the
Fliqlo
, the digital clock.
Along with this, there are other animated screensavers with clock, weather forecast and news.
4) The most popular screensavers are the ones with
3D aquarium
, to turn the desktop into a pool where they swim
tropical and colorful fish
.
This type of animated aquarium to set as a screensaver is difficult to find for free and, very often, there are only limited or trial versions.
Looking for free aquariums, I found two very nice ones:
3D Marine Acquarium
e
3D Tropical Acquarium
.
Both programs are safe and also tested with virustotal. You just have to say "disable" to everything, to the smileys and the toolbar and to say "disagree" when it asks to transmit statistics. There are very nice graphic animations, with fish swimming in the water and moving freely in full screen, on the PC screen. The difference between the two is in the variety of fish, one with sharks and normal fish, the other with more colorful tropical species.
Another great aquarium screensaver very beautiful graphically and full of swimming fish is
Sim aquarium
, free with limitations.
5) Finally, I point out a program, Animated Wallpaper Maker whose trial is free but which, for the full version, you have to pay. I put it on the sidelines but I point it out because it is really one of the best software to create animated and personalized screensavers, with your own photos and with many graphic effects. For example, you can set a photo of a landscape with the sea in the background and animate the water with a wave effect. Likewise, you can animate any photo or image you have on your computer. Inside there is also a wonderful aquarium and a city landscape.
7)
Free Fire Screensaver
it's a fire and flame effect on Windows windows that sets the desktop on fire in the truest sense of the word; very nice.
8)
Fireplace
instead it turns the screen into a
fireplace with the fire burning
, very warm and very nice to look at and to always keep active when not using the computer.
In other posts the list continues with:
- how to create screensavers with customized photos, images and graphic effects without downloading anything;
- download hypnotic screensavers and animated wallpapers;
- put a video as a desktop wallpaper or screensaver
- Best free and 3D screensavers for Windows pc
Free animated screensavers for PC: Aquarium, Matrix and custom wallpapers