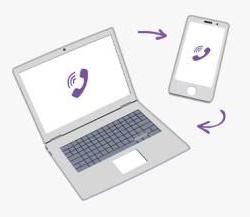 Who was looking for the
real alternative to applications like WhatsApp and programs like Skype
he doesn't have to look very far. The famous Viber application has recently been updated with a new version,
Viber 4
which greatly improves its free calling and messaging services and also brings them to your PC.
In this way Viber blends the best of two programs: on the one hand it allows you to
send free SMS and messages to friends
who have the application installed on their smartphone by taking their phone number from the address book (which Whatsapp does but Skype does not do which instead is based on an account separate from the phone number), on the other hand it allows you to send messages,
free phone calls and video calls
contacts in the address book that have Viber,
even from your computer
.
Viber
you can download and install
on iPhone and iPad
and on smartphones and tablets
Android
(Samsung Galaxy, Huawei, Xiaomi and others). Furthermore, Viber can be downloaded and installed for free too
on Windows PC, Mac and as an app on Windows 8
. The service now boasts 300 million users and is also very popular in the city so it is easy to automatically find many friends who already use it.
Viber
, compared to Skype, it is much lighter and more functional. Each user must register their mobile phone number on Viber.
After installation on the phone it connects to the address book and recognizes the numbers of contacts who have registered with Viber and have it active on their mobile phone.
All
these people can call each other absolutely free
, as long as they have a rechargeable or subscription plan that makes them connect to the internet in 3G (which is quite obvious if you have an iPhone or an Android smartphone) or while connected to a Wifi. To receive phone calls via Viber, simply keep the background service active on your mobile phone.
Viber for mobile is free to download
for Android
and for
iPhone
.
The voice quality of the call is excellent and there are no limits, the call can last as long as necessary and as long as you want, therefore better than any other plan on offer from mobile phone companies. Viber on mobile also includes
new features
, including the ability to send
video messages
and the function
push to talk to use the mobile phone as a Walkie Talkie
. Also they are available
smileys, emoticons and stickers for chat
.
To install Viber on PC and Mac
you must first have logged in to Viber from your smartphone.
When registering, you must enter your mobile number including the international prefix (eg 39347123456) and receive the confirmation SMS on the phone. The desktop version of Viber allows you to
texting
with contacts from your computer, allows you to
making calls and even video calls
as can also be done with Skype. For the moment the quality of video calls is certainly not the same as Skype but it will certainly be improved in the future. Viber remains running on the PC in the background.
Viber syncs your contacts, messages and call history with your mobile
, so you can start the conversation on Viber from your phone and continue comfortably from your PC. Incoming and sent messages are displayed in all open applications, both on smartphones and on computers.
Viber cannot be considered one of the
alternatives to Whatsapp to send messages for free
and it is a program that I recommend everyone to use to stay always available and to contact friends for free from PC and mobile phone, via the internet connection. That Viber that was previously just one of many, now becomes a fundamental app for all owners of a smartphone or cell phone that can connect to the internet, to make free calls and to send messages.
Updated:
With Viber Out you can also call landlines and mobile phones all over the world
Call and text for free with Viber from PC and mobile