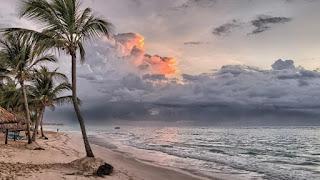 Now everyone uses the Internet for the most diverse purposes and now more and more people decide to organize trips directly online to save money and to find the most sought-after destination immediately: in the end, a computer or a smartphone is enough to organize our holidays immediately in comfort, without having to go to a travel agency or without intermediaries of any kind.
In this article we will show you in detail
the best travel sites with tips, photos and guides to organize your holidays
so as to have valid advice for each trip and thus choose your destination among the many available.
Travel safe
Before planning any trip or vacation
we do not underestimate the risk associated with COVID-19 and other possible obstacles to be faced
once arrived in the foreign country. To find all possible information for the area of ​​the world chosen for your holidays, we recommend that you visit the Viaggiare Sicuri website, edited by the Ministry of Foreign Affairs.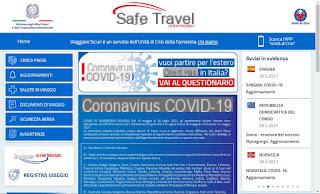 By accessing this site just press on the menu
Search country
at the top left and type in the country of destination for the holiday or trip, in order to obtain all the information of a bureaucratic nature (if you need a passport or an electronic identity card is sufficient), health information (any certifications necessary against COVID-19 or other endemic diseases) and safety information (number of the nearest American embassy or consulate, general safety advice and prohibited areas).
Remaining in terms of health, many foreign countries accept tourists only if they have a certification or "green pass", so as to be able to demonstrate that they are vaccinated, that they have overcome the acute disease of COVID-19 in the last period or that they have obtained a negative swab ( within 72 hours before departure, although in some countries the time is shorter). For more information, please also visit the Re-open EU sites and the COVID-19 Travel Info site.
Best sites for travel in the city and abroad
The most important and best site in the world
to find advice on travel, hotels, lodges and tourist facilities is undoubtedly TripAdvisor.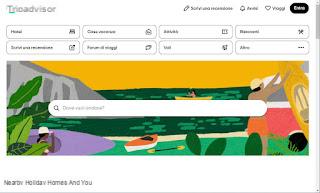 With this site we can find accommodation in every country in the world but also let us advise, by accessing the travel forum (with images and photos of the most beautiful places to visit or where to stay overnight), reading travel articles, choosing one of the certified Traveller's Choice or by taking one of the travel packages offered.
Another very good site to find
the lowest rates
for our next trip it is definitely Trivago.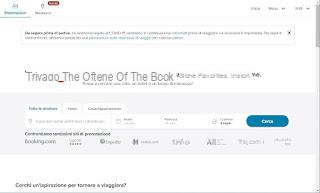 By opening this site we will be able to enter our destination in the search fields offered and choose among the most convincing search results, obtained from the aggregate of all the best sites in the world; therefore in fact Trivago does not offer dedicated trips, but takes care of indexing the contents present in other travel sites in the best possible way. However, the Trivago magazine is not missing, which will allow you to be inspired by the most beautiful and exotic destinations.
The two largest sites in the world to search for hotels are without a doubt Booking and Expedia.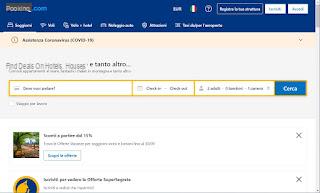 Both sites offer the lowest prices in many cities around the world, you just need to indicate the destination, the number of people traveling and the date of arrival and departure, so that you can automatically select the best hotel room to stay overnight. Among the many functions of these sites we also find packages
Flight + Hotel
,
Noleggio auto
e
Attractions
, so you can plan every aspect of the trip.
If we want accommodation in
hostel
the best site is without a doubt HostelWorld; if instead we look for one
private holiday home
or a room to rent to stay and spend little, the best site in the world is undoubtedly Airbnb.
To search
travel packages
all inclusive also last minute good sites to look for are once again Expedia (already seen above) and on eDreams.
Best tourist sites
The best international sites
to find travel information and discover new destinations in various languages ​​are:
Wayn: a social network to keep in touch with people met on the road.
Cityzeum: from France a guide to be consulted both with the PC on the internet and with a mobile phone and full of audio guides in mp3 to download for free.
Travelers Point: American social network to exchange information and photos updated in real time.
Gumtree: the English site has a Tours & Travel section with travel experiences and tips.
IgoUgo: American site with very detailed guides and very valuable advice.
Holidaycheck: a German site but also in English with a gigantic hotel database.
Wanderfly, Tripper and Triptuner, tra i
best sites to find travel ideas and photos
. On another page there are the
best sites with travel videos shot by tourists
. Other important sites allow you to
download travel guides to print
.
The list continues with i
Travel social network to meet new people abroad
.
Conclusions
Organizing a trip online is much easier than you think: just try all the sites listed above, get inspired and, once you're ready to shell out the money, compare offers for flights and hotels, so you can organize an unforgettable dream vacation.
To learn more we can also read our guides to
tips to follow to book a hotel on the internet
and how
recognize fake reviews on the internet
.
For those looking for savings at all costs, we can also read our guide
Save on flights and look for cheaper planes
.
Best travel sites with tips, photos and guides to organize your holidays