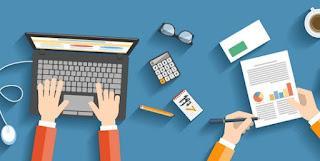 We have recently launched our business and would like to create a web page where we can offer all our services?
If we are not familiar with Web Design but still want to set up our site without contacting a specialized agency (much better choice but expensive),
we can create a free web page using the sites available in the guide below
.
In this way, with a few simple clicks and through guided steps, we will be able to give a minimal graphic look to the site (let's not expect ultra-beautiful sites, for those you have to contact the experts), with all the information we want to provide to the user interested in our business commercial, so that you can contact or reach us with great ease. We will thus relaunch our new business without having to ask anyone for advice and without spending even an additional euro, at least at the beginning.
Below we have listed all the best sites where you can create a free web page for your business, obtaining a free domain (reachable by anyone on the web), a cloud space where you can insert any files or interface customizations (if we were capable, otherwise it would be better to get help from a Web Designer) and a usable amount of bandwidth (with very specific limits).
It is not possible to get a super high quality service for free, we will have to "make do" at the beginning, but with the passage of time we can expand our page at any time by purchasing premium services and adjusting the interface according to our wishes (and with the help of an expert).
1)
Weebly
One of the best services we can use to create a free web page is Weebly, reachable here ->
Weebly
.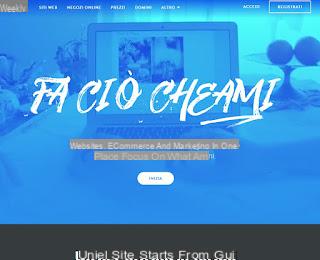 Using this site we will be able to create a web page in a few simple steps, by first registering (at the top right or by clicking on Start), then by choosing a domain name (i.e. the name of the actual website that we will go to create, making sure it is not already used) and, through screens and buttons, we will be able to customize the homepage of the site and the various internal links according to our tastes and needs.
The service offers a whole series of dedicated offers based on the type of business we intend to open: we can customize the page for generic websites or for shops, so you can get the right showcase for your business.
For those who are familiar with Web programming, it is also possible to upload your own customized HTML, so as to make the page unique in its kind.
The Basic plan is very limited, so if we need to expand the business we must then consider purchasing a paid plan (starting at € 6 per month).
In another article the guide to Webly to make a complete site.
2)
Yola
Another site that we recommend to visit in order to create a free web page is Yola, reachable from here ->
Yola
.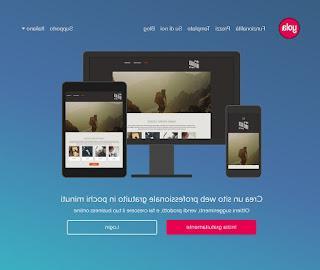 With this service we will be able to create very beautiful web pages aesthetically and able to adapt well even for viewing from mobile (i.e. smartphone and tablet), so as to obtain a complete website. The service offers a free version of a registered Yola subdomain, 3 pages to be created freely and bandwidth and memory limitations (1 GB for both); obviously to expand your business it will be necessary to subscribe after some time a monthly subscription (starting from $ 5 per month), so as to obtain unlimited pages, unlimited bandwidth, 2 GB of RAM and a custom domain (so as to obtain a personal website up to from address).
3)
Jimdo
Among the best free services to create a free Web page, Jimdo could not be missing, reachable from here ->
Jimdo
.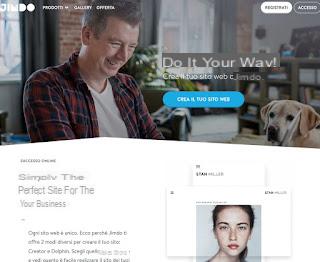 For your business Jimdo is certainly one of the best available, also thanks to the ease of use with which we can create our site from scratch through objects and tools made available by the site, so that even users who are not very skilled in HTML can pull on a nice site, also using the numerous themes and templates already prepared (we just have to change the titles and the various links we intend to add).
The free version includes 2 GB of bandwidth, a jimdofree.com sub-domain, 500 MB of usable space and the HTTPS protocol already up and running.
To expand our business and create an original and personalized site, we can subscribe to one of the monthly subscriptions available (starting from € 6,50 per month), in order to get the free domain in the first year, 5 GB of space, 10 GB of width. bandwidth and other advanced features.
In another article, Jimdo's guide to opening a website.
4)
Webflow
To create professional and well-structured sites we can rely on Webflow, available from here ->
Webflow
.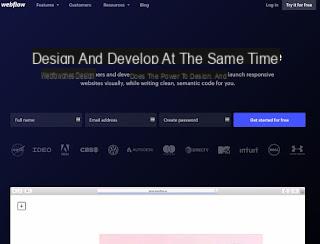 Very little information is needed to immediately obtain a web page for your activities, especially if we carry out work in the marketing, agency or development and design team. The interface can be created through a special object-oriented platform where it is possible to make the site take shape in a simple and fast way, especially if we already have a good basis for Web programming. The site can be created and structured for free, but to arrive online you need to buy a custom domain with prices starting at € 12 per month.
5)
WebNode
WebNode
allows you to open a new website without downloading anything on your computer, just register by clicking on "
Register now
".
In the first place it is necessary
give a name
, unique and not already existing, to the site that will compose the web address with which it can be visited by all (for example: pomhey.webnode.com). You can then choose the real name of the site (if previously a word might not be available, everything is allowed here). You can also put it on
a slogan that acts as a description
, the language in which it will be written and then, at the top, you can choose s
and create a normal static site or a shop to sell online
products or services.
Soon after you can
choose the graphic template
web pages among various templates available. At the end, in the wizard, it is suggested to insert web pages within the site, which are those that, generally, all have: About us, Contact us, Comments, News, Photos, Guestbook, Portfolio, Calendar, Blog , Faq, Products. Each block can be moved and deleted and, for example, you can choose whether to publish articles as if it were a blog or delete that block and leave a static page.
To add a new block, just move one of the possible contents from the top bar: Text, Survey, Forum,
Photo gallery
and countless widgets.
The box
widget
includes the ability to add to the site
Videos, Maps, E-Commerce tools and html code
custom to embed.
The nice thing about Webnode is that the elements of the page can be moved with the mouse how and where you want but, if you get it wrong and create confusion, you can use the button to restore the original layout.
5)
WordPress
If our business is blogging or writing articles or news on the Internet, one of the best services is WordPress, available here ->
WordPress
.
With this service we can create the writing platform (behind the scenes, invisible to users) with which to write all our favorite content by improving the functionality through plugins (useful for SEO, for indexing, to obtain advanced publishing features etc. ) and at the same time we will be able to choose the hosting, the domain and so on using the tools made available by the service. The use of WordPress, most plugins, most themes and the WordPress subdomain is free, while to be reachable worldwide you may need a dedicated hosting service on which to rely to host the entire platform. .
In another article, the guide to create a website or blog with Wordpress.com.
6)
Blogger
If we want to write a blog or an information site and user guides without paying either domain or writing platform we can use Blogger, reachable from here ->
Blogger
.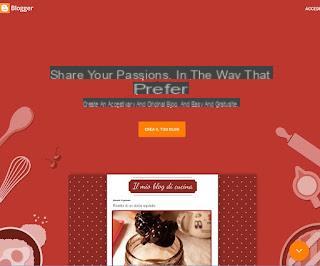 With this service it will be sufficient to use any Google account to obtain a simple and immediate writing platform, a site interface that can be customized through objects or tools and everything you need to immediately start earning with your site (through Adsense or others advertising circuits).
The base domain offered by the service is blogspot.com, customized according to the name we intend to give to our Web page; later it is possible to buy a personal domain and have everything directed to Blogger, which will work as a writing platform, while the site will be customized according to our needs and requirements.
Best sites to create a professional free web page by yourself