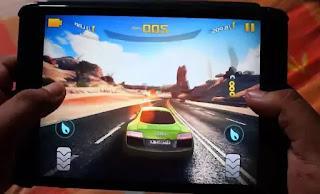 Smartphones today are even better than most portable consoles, in fact in the stores you can find some great games with realistic HD graphics.
For the best gaming experience, however, it would be better to play on an Android tablet or iPad, because the big screen really makes a difference.
But what are the most suitable games for tablets?
In this list we find out then
free games for android and ios
, with HD graphics, optimized for the big screen, which work well on smartphones, but even better
on tablets like the iPad
or any other with Android system.
1)
Asphalt 9
is the best racing game currently available for Android and iPhone. Asphalt's scenarios perform very well on the larger screens of tablets and iPads, as does the feeling of speed of racing and sports cars.
2)
Hearthstone
(Android and iPad / iPhone) is the best tablet card game
Hearthstone: Heroes of Warcraft, is really beautiful, with a perfect balance of its cards, animations and with excellent graphics. In Hearthstone you play as a wizard who must cast spells (which derive from the cards you draw) to defeat your opponent. These spells come from the cards you draw, ie you play every round. It's a tried and true formula that Blizzard has perfectly transposed into a free-to-play mobile title. Best of all, it is constantly updated with more content. Not to be missed.
3)
Deemo
(Android and iPad / iPhone) is a great music game, of a relaxed genre, with a very high level of graphics and great songs to listen to. The aim of the game is to avoid obstacles and discover passages during a fast run that never stops.
4)
Modern Combat 5
(Android and iPad / iPhone) is one of the most beautiful shooters ever for smartphones, which on iPad and Android tablets becomes even more playable and enjoyable. A fast-paced adventure game in which you face hordes of enemies to move forward, with beautifully designed graphics.
5)
Glow Hockey
(Android and iPad / iPhone) is one of the most fun and popular games on the Apple Store ever and it's free as well. The iPad screen turns into a game board where you can throw the puck with your hands to score goals in the opponent's goal. Two can play on the same screen or even via Bluetooth, even if the friend has an iPhone. If you play alone, there are 6 levels of play and you can also play with two discs.
6)
SimCity Build It
(Android and iPad / iPhone), where you can build your own city, build houses, run businesses like a mayor.
Sim City is definitely one of the best
management games
for iPad, iPhone and Android devices.
7)
Farming Simulator
(Android and iPad / iPhone) is the farm simulator, where you can manage a farm in all aspects, with realism and 3D graphics that have nothing to do with Farmville or similar games.
8)
Dream League Soccer
(Android and iPad / iPhone) is perhaps the best football game for iPad, iPhone and Android tablet or smartphone, which for me is superior to more famous titles like FIFA and PES in terms of playability and fun.
9)
Truck Simulator
(Android and iPad / iPhone) is the truck and lorry driving simulator, really realistic and with great 3D graphics.
10 )
The Sims Mobile per Android e iPhone
is the multiplayer virtual life game, which on a large screen has an excellent performance and allows you to manage every aspect of the house and things to do.
11 )
Traffic Rider
(Android and iPad / iPhone) is the best motorcycle game on the Google Play and Apple Store, in 3D, very fast and dynamic.
12 )
Sniper 3D Assassin
(Android and iPad / iPhone) is one of the best sniper games, where you shoot enemies from afar and become an infallible sniper.
13 )
PUBG MOBILE
(Android and iPad / iPhone) is, along with Fortnite, the most played game in the world these days, in the Battle Royale genre. A first-person shooter is then played against 99 other real players in a limited space, trying to be the only ones to survive.
14 )
Fortnite
(free for Android is the number one of the Battle Royale games, become an obsession for all players in the world, the most played game of the last year, with millions of players competing trying to stay alive in every match .
15 )
Pokemon Quest
is the game of Pokemon, of exploration and collection, very different from Pokemon Go and more similar to Minecraft.
16 )
Alto's Odyssey
(Android and iPad / iPhone) is a descent along the mountains of a beautiful scenery to watch, going on endlessly between jumps and pirouettes.
17 )
Walking Dead
(Android and iPad / iPhone) is the most beautiful graphic adventure for mobile platforms, with a story worthy of the TV series, which changes according to the choices made.
18 )
Life is Strange
(Android and iPad / iPhone) is another graphic adventure, released several years ago on PC and recently ported to smartphones and tablets.
In Life Is Strange the story, emotional and also moving, changes according to the choices and brings the protagonist, with time travel and protagonists (especially female) to whom you become attached immediately.
19 )
Draw Something
(Android and iPad / iPhone) is made up of fun daily challenges where you have to draw and guess the drawings of others as in Pictionary.
20 )
Clash of clans
(Android and iPad / iPhone) is a strategy game and Tower defense game.
It is necessary to collect gold to power the city of builders and fighters, to experiment with different types of troops, spells and strategies to gain resources.
Best HD games for iPad and Android tablets to play for free on big screen