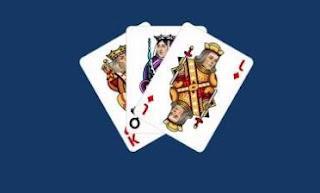 Solitaire is not only one of the oldest card games, but also one of the oldest computer games, so much so that since the first versions of Windows (from Windows 3.0 in 1990), Microsoft has always included a collection of solitaire games, which they necessarily became the first game to try.
The "Microsoft Solitaire Collection"went on to become one of the most played multiplayer games on Windows 10.
Given the extraordinary success, the collection of Microsoft solitaire has now also been released for Android smartphones and tablets as well as for iPhone and iPadbecoming one new alternative for solitaire enthusiasts, who certainly do not lack apps with which to try and challenge themselves.
In addition to the solitaires offered by Microsoft there are also others solitari to install, so you never stop having fun.
Let's see together the best free solitaire games that we can install on our mobile device.



Microsoft Solitaire Collection
Microsoft's Solitaire
it is free to download for Android and iOS and also includes a premium subscription plan to remove advertising.
The game collection includes 5 solitaire games
:
-
Klondike
, the most classic solitaire, where you start with several columns of cards to be grouped in the numerical sequence.
-
Spider
, the solitaire with eight columns, where you have to sort the scales from King to Ace in descending order in the least number of moves possible.
-
Freecell
, strategic game with four cells between which to move the cards to form a ladder for a suit of cards, grouping them in the boxes at the top of the screen.
-
Tripeaks
, where you have to eliminate the cards arranged in three small pyramids.
-
Pyramid
, where instead the picture of cards is formed by a single large pyramid.
The games allow you to play alone (as a good solitaire!) But also offer the possibility of accessing the online platform via the Microsoft account to challenge friends or other people in the world, so as to see who is better at various solitaire games. .
Do we also want to play these solitaire games from a PC?
Just download the same application available for smartphones and tablets on the Windows 10 Microsoft Store ->
Microsoft Solitaire Collection per PC
.

Let's open this link from a browser, then click Get to add it as a Modern app to the Start menu. At the end of the download we will be able to play the games seen above also on the PC, so as to have fun and challenge friends at any time.
Solitaire online games for PC, smartphone and tablet
While that of Microsoft is the most famous and perhaps the best collection of solitaire for smartphones and tablets, those who simply want to play with cards on the screen of their smartphone or PC without having to register with a Microsoft account, can choose to play online on different sites. internet with the solitaire.
-
Solitaired
is a simple and straightforward website to play solitaire immediately, without registration or other clicks.
-
247Lonely
is similar to the one above, the classic solitaire with a timer, playable in full screen without registration.
-
Solitr
has a clean and simple interface for those who are already solitaire pros.
-
Worldofsolitaire
has many variations of solitaire to choose from.
-
Arcadium
, site with different types of online solitaires
-
Cardgames.io
is one of the most popular platforms on which to play card games, including solitaire.
-
frvr.com
, for a simple and classic solitaire.
-
Classic Solitaire
, with daily rankings among players.
-
The solitaire on Google
: A trick that few people know, but easy to find is that of the card solitaire playable directly on the pages of the Google search engine. So just look for the word "solitaire" to then open the classic solitaire of cards, with the possibility of choosing the easy or difficult level. Solitaire, playable from PC and smartphone, remembers scores, moves and playing time.
The best solitaires for Android
-
Simple Solitaire Collection
: a collection of all the most famous solitaires, in a simple and immediate graphic. The
total absence of advertising
, so you can play without any hassle.
-
MobilityWare Solitaire
, downloaded by more than one hundred million people, available both on Android. There are therefore different versions of Klondike, different games proposed every day, Spider and Freecell and then also world rankings, multiplayer challenges with friends, statistics and much more.
-
Solitaire! by TaoGames
for Android is an excellent Klondike solitaire with background music, beautiful graphics, daily challenges and in any case without advertising and disturbances of any kind.
-
Classic Solitaire
; another good app to play the classic solitaire, with a considerable degree of difficulty (useful for those looking for real challenges).
-
Solitaire by Brainium!
for Android is another of the most popular solitaire games in the whole store for its graphics and its gameplay that makes it really feel like touching the cards.
-
Solitaire Card Games
: another good collection of solitaire games of all kinds, with the ability to customize the background and cards.
-
Spider solitaire
: good game app for those looking for a tough challenge in the Spider variant of solitaire.
Best solitaire games for iPhone and iPad
-
the Solitaire for iPhone
is the classic Klondike, again with multiplayer challenges and world rankings.
-
Solitario by Finger Arts
: one of the most beautiful solitaire games for iPhone, with the possibility of doing daily challenges (of increasing difficulty) and always choosing the most appropriate level of difficulty for our abilities.
-
MobilityWare Solitaire
, downloaded by more than one hundred million people, also available on iPhone and iPad.
-
Solitaire by Brainium!
, in fact the same app we saw for Android is also available for iPhone.
-
Il solitario by OutOfTheBit Ltd
: another valid app to be able to play solitaire on our iPhone or iPad, with simple and accurate graphics.
Other games for smartphones and tablets
Solitaire Forever
is one of the best apps to play solitaire on PC, Mac, Android and iPhone, with 7 variations of card solitaire, all free. According to the developers, Solitaire Forever II aims to be the largest solitaire app ever created.
If we are lovers of casual games or games in which skill is required but we want to try something different from solitaire, we recommend that you read the collection of guides we have created on the theme of cards, board games and board games that can be used on smartphones. and tablet.
-
How to play free online poker on Android and iPhone
-
Online board and board games: Risk, Monopoly and others
-
Free online solitaire and card games: Uno, Scopa, Burraco, Briscola etc.
Do we want to challenge friends on Facebook to cards?
In this case we can also not install any app or program, since the most famous social network in the world offers a wide range of online games, including solitaire. To learn more, we can read the guide below.
Best free Solitaire games to play on PC and smartphone
Where to play now!
Now that you have an understanding of all your options to play solitaire, here are some games you can play right now: