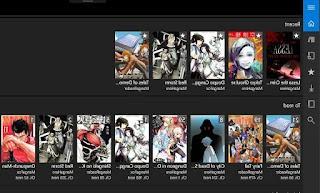 We are a lot of Manga fans (me too) and on the internet there are a lot of them, both to read for free online, and with subscriptions (if you want regular sites with high quality and newly published volumes), and also to download. Japanese comics are now a great classic, with adventures of all kinds and the most diverse genres ranging from romantic stories to the most violent manga and horror. Like ebooks, manga can also be read through a computer screen or, even better, through a smartphone or tablet.
Manga, however, are not normal books, but comics that have a specific reading order, s (in Japanese it is read from right to left).
Manga files can be readable PDFs
with Adobe Reader or any PDF reader both on PC and on smartphones and tablets, but more often they are found in formats that are not supported by Adobe Reader such as
CBR, CBZ, CBT, CB7 or CBA
.
Using a manga specific application
you get not only a better reading, but also a '
file organization
more orderly and the ability to choose which one to read in a much easier way than you would with PDFs. Furthermore most of the applications are not only basic players, but also have a
manga catalog to download and read offline, for free
.
Below, let's see
the best apps to read Manga on PC (Windows 10), on tablets and smartphones (Android and iPhone / iPad)
.
Best apps to read manga on Windows 10 PC
1)
Adobe Reader per Windows 10
is the most used program to open PDFs on PC, which also works great with Manga if they have been downloaded in PDF format. Adobe Reader, however, as mentioned above, is not convenient for organizing comic book episodes, grouping them and organizing titles. It also cannot read downloaded comic formats as CBR or CBZ files
2)
Blaze Manga
is the most popular manga reading app for Windows 10 in the Store, free, reliable, fast and great for reading, organizing and tracking your favorite manga titles. You can keep track of unread pages, quickly pick up where you left off and receive notifications when new chapters are available. You can download the manga in r other languages ​​to read them even without an internet connection. Manga Blaze relies on multiple manga sources in six languages: English, German, Spanish, Russian and Portuguese. This application has some limitations in the free version, but the Manga Blaze Plus version costs just 1,50 Euros.
3)
Sleeve Z
is one of the best manga reader apps for Windows 10, made to feel like you're browsing through a real manga magazine. Manga Z allows you to read manga and download them for reading today, book titles to easily find them and get notifications when new chapters of a comic are available. There is no advertising while reading and you can pick up where you left off.
4)
Manga Reader
supports all manga formats and allows you to read the latest chapters of your favorite manga titles. It has the bookmark function, the favorites section and a catalog to browse from which to choose the comics to read. you can read both vertically and horizontally and customize the settings to receive notifications when new chapters are available. From the application you can download manga from the internet, for free.
5)
Manga Bird
offers a lot of manga titles that can be read and downloaded for free. The app has an interface designed specifically for reading Japanese comics and has the function to organize favorites. You can customize the reading orientation and background colors, even if there is a somewhat cumbersome banner ad.
If you prefer traditional programs (which are not applications from the Microsoft store), we have seen in another article
how to open CBZ and CBR files on PC
App to Read Manga on Android and iPhone
1)
Amazon Kindle e Google Play Books
: these being the most popular platforms for reading eBooks, applications
Kindle
(Android e iPhone) e
Google Play Books
(Android and iPhone) also support manga reading. However, the catalog is very limited (often for a fee), so they can only be good for first reads. The convenience of these applications is that they allow downloads for offline reading and synchronization of the collection between devices.
2)
Anime Amino
(Android and iPhone) is a kind of social network for manga and anime fans. The general idea is to explore the net, find advice and discover new readings. The service prides itself on being a venue for fans of anime, manga, cosplay and the like. The app is free with no in-app purchases or ads.
3)
Comic Trim
(Android) is an application capable of correctly reading and opening CBZ, CBR, ZIP, RAR files, image folders and PDFs, most of the formats used by the manga. This application is great for those who already have a collection of downloaded manga and just want an application to read them. The free version includes night reading mode, magnifying glass, gesture controls and other functions. The premium version removes advertisements, supports higher resolution images, and has a completely dark theme.
3)
Comixology
(Android and iPhone) is an app to read comics of all kinds, both Japanese and normal ones like Marvel or DC. There is a collection of manga to read inside and a good interface for reading from a smartphone or tablet. Comics can be purchased individually or even with a subscription.
4)
WebComics
(Android and iPhone) is a huge app with tons of comics to read, even if they're not really Japanese manga. The app uses in-app purchases or single comic purchases or a subscription service, but you can also download each comic for free by earning credits for watching advertisements.
5)
MangaToon
(Android and iPhone) is one of the most popular Manga applications on both application stores, with lots of content written and designed by independent designers (anyone can publish on this app). On the reading side it works well, with a system of categories, favorites and the ability to download entire chapters and read them offline. The download of manga is not free, however, there are virtual coins to spend, with fairly low prices.
6)
Manga Me
(Android) is a free app for reading free manga from the internet. There are not all manga for copyright reasons, but the collection is really wide and through the search it is possible to find the most beautiful ones depending on the genre, with the possibility of being warned when new chapters come out.
7)
MangaUP
(Android) is a simple but functional manga app, with a library of free manga to read. You can browse manga by categories so you can find the ones you like best, you can add them to your favorites and it has no annoying advertisements.
8)
Manga Reader - Manga Viewer
(iPhone) is one of the best applications to read manga on iPhone and iPad that allows you to download and read thousands of manga for free, using the link to sites such as mangafox, mangareader and others. You can search for manga by title, author name, genre and much more.
9)
CBR and CBZ readers
Su smartphone e tablet Android
you can use the Perfect Viewer app to open CBR and CBZ files and read comics or manga or digital comics or the Astonishing Comic Reader app.
On iPhone and iPad
we can instead use, to open comics and read CBR and CBZ, the Cloudreader or iComix apps or, only for iPad, Comicflow.
Best apps to read Manga (and download) on PC, Android and iPhone