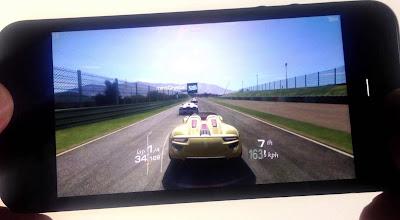 Car games on mobile phones and tablets have become more and more fun and beautiful to play, with optimized touchscreen controls sometimes based on sensors (without touching anything, you turn by turning the phone), with graphics worthy of the best console video games.
In this list of
games dedicated to car races
, let's see i
best 3D racing car driving games for mobile
, discovering, among the many available, the most popular and downloaded ones, the most relevant news of the last year, those of the most realistic simulation and those instead more fast and fun arcade, looking only at those
free
, per smartphone
Android and iPhone
.
The only thing to watch out for when downloading these games is the internal memory space and the availability of a wifi network for downloading, as some of them can also take up almost 2 GB of space.
1)
Asphalt 9 Legends
is definitely the best car game for Android and iPhone, with spectacular graphics, easy controls for faster driving than ever. Released in 2018, it has become in a few weeks one of the most downloaded games from the mobile platform stores.
1 bis)
Asphalt 8 Airborne
, for Android and iPhone, has been the most popular and most downloaded car game of the stores for several years, because with a very high level 3D graphics, because it is fun and playable without obligation, but above all because it is completely free. You can drive real cars like Alfa Romeo, Audi, passing through Mercedes, up to luxury models like Lamborghini, in street circuits set in different countries of the world.
2)
Forza Street
by Microsoft, free for Android and iPhone, one of the best games released in 2020, is a sports car racing game with exceptional graphics and movie animations. The game is practically identical to that for XBox and in addition to the races, there is also a story to follow and an adventure to play in single mode.
3)
Need for speed no limits
is a very famous title, with crazy fast races, very funny, free for Android and iPhone. The graphics are of the highest level, the races are similar to those of the Fast And Furious movies, with modified cars and clandestine street circuits, in which sometimes even the police appear ready to arrest reckless drivers. The only flaw, the best upgrades cost real money, to be paid in the game and almost indispensable when you reach a certain level.
4)
CSR Racing 2
(free for Android and iPhone) is a car game that has been among the most popular and downloaded for several years, combining slightly more realistic driving simulation with arcade fun. The races take place within imaginative street circuits, driving cars graphics are definitely sought after and, even if the races are not as compelling as those with spectacular turns, jumps and circuits, it remains the game with the car models that look real for how well the graphics are. You can compete with other people thanks to the ranking of the fastest drivers in the world. The controls are on screen, with pedal buttons, are well designed and comfortable to use. You can test your driving skills through a series of head-to-head matches between identical cars.
5)
Real Racing 3
, free for Android and iPhone, is the car game for those who prefer realistic driving, with a view from inside the car, then with the steering wheel, odometer and dashboard in the foreground. Being a driving simulation that is as real as possible, you cannot run to the maximum and hope not to go off the road in the corners, so you have to dose the accelerator and brake pressure well as real drivers do.
Here too there are many cars to drive, real cars (even Nascar), real circuits and no obligation to spend money to win.
6)
Asphalt Xtreme: Rally Racing
(free for Android and iPhone) is another game in the Asphalt series, this time with off-road Rally races, on dirt roads, but always very fast. You can unlock different types of cars and compete in all the campaign tracks, even in online multiplayer mode.
7)
CarX Drift Racing 2
(Android and iPhone) is a "drift" racing game, where you drift around corners, trying to slide correctly. There is a story mode with progress, many cars to unlock, ten tracks to play and the ghost mode to beat your own record in the tracks already played.
It is also on the same level
CarX Drift Racing
(Android e iPhone)
8)
Drag Racing Classic
, for Android and iPhone, is a very similar game to CSR not with the same level of graphics, but with a detailed mechanical component. In fact, you can modify the machines in the way you prefer, choosing set-up and technical characteristics to make it go faster. With a multiplayer mode and frequent updates, it still remains one of the best car racing games for smartphones.
9)
Racing fever
, free for Android and iPhone is a racing game with beautiful graphics and a variable control system according to your preferences. There are four racing modes (including free ride to ride freely), leaderboards, power-ups, online multiplayer and even a slow motion mode to better take the tough corners. It is an excellent alternative among racing games also because it is less heavy than others.
10 )
Nitro Nation Online
, for Android and iPhone, is a drag racing game that was recently released and immediately became one of the most downloaded. In addition to being a very nice game in terms of graphics and racing, many cars to unlock and a multiplayer mode, it offers the possibility to make infinite customizations and modifications to the car to make it faster. The game is free, has in app purchases, but does not make them necessary to compete, it does not disturb with invitations to buy upgrades and upgrades that make many of the smartphone games boring and above all you can play as much as you want without having to wait between games. and the other.
11 )
Horizon Chase - World Tour
(for Android and for iPhone) is a game inspired by great classics like Out Run, with a modern twist. Horizon Chase takes you on a third-person arcade race through circuits around the world, with 73 different tracks to traverse, through 32 different cities and 16 upgradeable race cars to collect.
12 )
Racing Limits
, for Android and for iPhone, is a game with city streets and highways racing with 5 modes, including multiplayer and free, to run endlessly in traffic. Very nice for its view from the steering wheel, you can choose the level of traffic and then also the time of day to run.
13 )
Extreme Car Driving Simulator
(free for Android and iPhone) is a really nice and appreciable realistic driving simulator, with all the controls of the car on the screen, with clandestine races in the middle of traffic.
14 )
Street Racing 3D
, free game for android and iphone is a game with third person view of the car to drive in fast races. The game is a mix between the arcade genre and the driving simulator genre, also made up of stunts and drifting.
15 )
Traffic Rider
, (Android and iPhone is a wonderful game of
moto in 3D
, with realistic graphics, first person view and with the ability to choose the bike to race with and real roads to whiz around. The best part is the fact that you can endlessly run along a busy road or highway, driving between cars as you would in real life.
16 )
SBK16 Official Mobile Game
(Android - iPhone) is the official game of the Superbike World Championship, to compete with racing motorcycles on real circuits. Players can participate in dry races, championship mode, timed attacks and practice laps.
17 )
F1 Mobile Racing
(Android - iPhone) is an officially licensed F1 racing game with real-time 1v1 PVP matches, singleplayer training races and no energy systems to play as much as you want for free. With three different control settings and multiple commands for braking, steering and stability, the game is very easy to master, while remaining difficult to pad high levels.
18 )
Hot Wheels
(Android - iPhone) is a super fun physics-based game with fast jumps and stunts in multiplayer mode.
19 )
G
(Android - iPhone) is another Gameloft game, with 3D races and lots of cars to drive in different race modes.
20 )
KartRider Rush +
(Android - iPhone) is a multiplayer Go Kart racing game, with different game modes and very colorful graphics. You can do direct speed racing, online PvP, collect items and play in career mode.
21 )
LoL Kart
, for Android and iPhone, a fun and exciting go kart race.
22 )
Hovercraft: Neutralization
, for Android and iPhone is the guide of a hovercraft armed and ready to shoot opponents, very fun and fast, even with the multiplayer mode.
23 )
RaceCraft
for Android and iPhone it reminds a little of the old arcade games of car racing, very fast, with the particularity that it is necessary to create the tracks in which to run on your own. As a game and as a style of running, with jumps and loops, it is very reminiscent of Trackmania.
24 )
Top Speed 2: Drag Rivals
for Android and iPhone / iPad is a 3D car racing game with beautiful graphics, where you can customize and upgrade cars, unlock real car models and participate in multiplayer races.
Other games
to report for those who want to try other races with racing cars
only for android
I'm:
Moto Rider GO (free), among the best motorcycle games for Android, with very accurate graphics.
Speed Racing Ultimate Free is a beautiful free 3D car racing game with blazing fast cars and thrilling gameplay, free for Android smartphones and tablets.
Fast Racing is a very nice, light and fast 3D car game, very similar to Asphalt, with city races, Nitro and drift.
Dr Driving is a very fun, more realistic car racing game with city racing in traffic.
2XL Offroad MX (free) is a beautiful 3D racing game in motocross and quad bikes for Android, where you have to beat your opponents by reaching the finish line first. The graphics are great with the view that changes framing automatically.
Beach Buggy Racing is a beautiful "buggy" car racing game on the sand, with 3D graphics, fast and fun.
Similar to Mario Kart, the game is a race where you can hit opponents with weapons to damage them and with the possibility of playing with friends in 4.
Car simulator is a realistic driving simulation game, free to explore and drive without infraction.
Angry Birds Go! is a nice free racing game with characters from the famous Angry Birds series, very similar to Mario Kart, in 3D.
Vertigo Racing is a simple classic car racing game on hilly roads and top view where the goal is to collect all the classic cars and beat the highest score.
25 Racing games and car and motorcycle driving on Android and iPhone